Entertaining
Party Patterns
Diane Von Furstenberg brings her print prowess to the party.

Diane Von Furstenberg is one of those style icons whose 15 minutes of fame seems to have extended, seamlessly and appropriately. The woman who was literally a princess (when she got married to Prince Egon of Furstenberg in the 1970s) became a princess of prints, a fashion designer who created the print jersey wrap dress that seemed to represent women's liberation, comfort and power in the 1970s just as much as the mirrored disco ball represented much of the decade's popular culture.
With her dramatic good looks, Von Furstenburg was also her own best advertisement, inextricably the face of her brand when "brand management" wasn't a career specialty and when every job seeking college graduate wasn't expected to create his or her own brand along with a resume. She dropped out of the limelight a bit in the mid 1980s, moving to Paris and starting a publishing company, but returned to New York City in 1990 and restarted her company in 1997. Now DVF is a "global luxury lifestyle brand" including a home collection.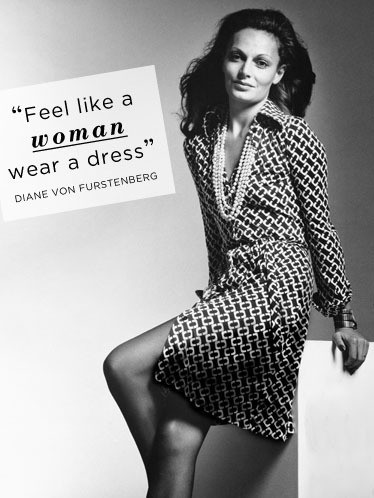 And that home collection naturally includes appropriately easy yet glamourous tabletop and entertaining items. It's a full line, but what jumps out at this time of year are the serving trays and ice buckets. The Square Dot red and white geometric print pattern would be perfect for Fourth of July cocktails on the patio. Or for any time of year, the black and white Chain Link patterned ice bucket and tray would amp up the glamour effortlessly.
Von Furstenberg's glamourous image hasn't waned, and with her longtime romantic alliance with (and marriage to) Barry Diller, she's continued to be a force on the NYC social and philanthropic scene. She's been a prime proponent of the High Line, which graces the neighborhood where she's lived for decades now (she and Diller put $20 million toward it, the largest private donation to a public NYC park in the city's history). Continuing to follow her lead in personal and domestic fashion is a no brainer.