EXPLORE HIDDEN OREGON: AN APPENDIX
6 of Oregon's Most Curious Tourist Traps
A staple of any long car ride is the tourist trap. Here's our guide to some of Oregon's most curious ones.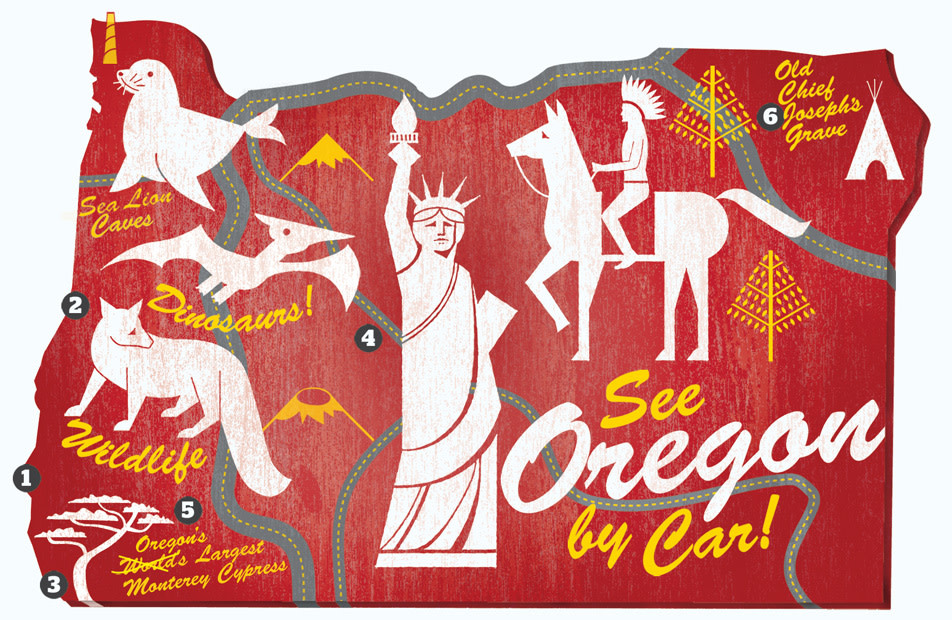 1. Prehistoric Gardens
Port Orford
Cost: $8
Advice: Hit the brakes
If the sight of a 20-foot-tall, turquoise-scaled T-Rex lording over the highway doesn't make you grin, nothing will. Yes, after 56 years, the dozens of cartoonlike dinos lurking here still entertain. You might even learn something. (Did you know ginkgo trees have been around since the Triassic Period?) A goofy gift shop completes this lovely oasis of Americana.
2. Sea Lion Caves
Florence
Cost: $11
Advice: Keep driving
After a mad dash across a blind corner on Highway 101, visitors queue up to cram into a dimly lit freight elevator that plummets 200 feet to the bottom of "The World's Largest Sea Cave." Once the doors open, there's a very real chance that all the barking sea lions will immediately dive, en masse, into the water and swim out of sight.
Oh yeah—no refunds.
3. The World's Largest Monterey Cypress
Brookings
Cost: Free
Advice: Why not stretch your legs?
Right off the bat, there's disappointment. Turns out that, at 99 feet, this is merely Oregon's largest cypress tree. A crumbling viewing platform conveys a hint of despair. But there is a reward: the nearby Chetco Valley Historical Society Museum. The host, John, a lovably gruff Curry County local, is a delight. Ask him about Japan's World War II–era bombing of nearby Mount Emily.
4. Petersen Rock Garden
Redmond
Cost: $4.50
Advice: Plan for a long, rewarding break
Before his death in 1952, Rasmus Petersen spent nearly 20 years turning the agate, thunder eggs, jasper, and petrified wood he collected near his home into a world unto itself. A ramble among his miniature manors, walkable bridges, and even a likeness of the Statue of Liberty is a tribute to the art of human obsessions.
5. Wildlife Images
Merlin
Cost: $10
Advice: Keep driving
Injured critters (or those unsuccessfully raised as pets) find refuge here. Guests, however, suffer mercilessly. During our hourlong incarceration, the tour guide labeled humans as "despicable" and warned us that a resident brown bear "could swat our heads off." But the most cringe-worthy moment came when a worker tossed cardboard boxes—called "enrichments"—to some mangy gray wolves cowering behind an electrified fence.
6. Old Chief Joseph's Grave
Joseph
Cost: Free
Advice: Contemplate the ages
While his son—the younger Chief Joseph who led the Nez Perce's resistance against the US army in the 1870s—was exiled from his native Wallowa country, Chief Joseph the elder is buried at the region's heart, beside Lake Wallowa. The grave site, marked by a humble headstone, is a sacred place for many Nez Perce, and a quiet spot for anyone to ponder the bloodshed and tragedy that accompanied our state's origins.