Beyond the Bridges
Wild Wheels
The former timber town of Oakridge reinvents itself as a mountain biking mecca.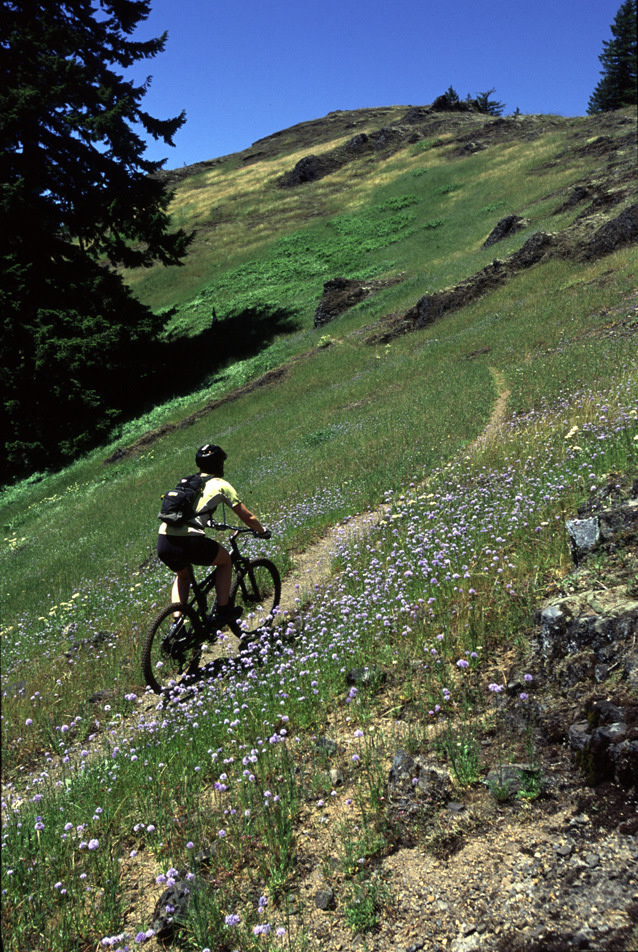 IN OAKRIDGE, where the verdant fingers of Willamette National Forest curl east toward the central Cascades' fir-covered spine, the screech of the bald eagle isn't the only call of the wild. You can also hear it in the rattle of metal on mud, the whir of wind through spokes, and the gleeful, unbridled hollers of mountain bikers hurtling down fern-laced singletrack.
Welcome to the "Mountain Biking Capital of the Northwest."
Twenty-five years ago, you'd have been more likely to hear the growl of chainsaws and logging trucks echoing off the western shoulders of the Cascade Mountains, which shelter this town of roughly 4,000. But that was before the ebb of Oregon's timber industry—before Pope and Talbot Mill, which once employed 500, closed its doors for good. Today, Oakridge measures its prosperity not in board feet but in miles of singletrack. And there's plenty of that. Three hundred and fifty miles, to be exact.
Piggybacking on the success of 1995's inaugural Cascade Cream Puff (a 100-mile mountain biking race), Oregon Adventures began running fat-tire tours in 2000, and Oakridge hasn't looked back since. Not that you need a guide to savor the endless web of trails, crisscrossing lush forests of 400-year-old trees, precipitous gorges, and slopes ablaze with wildflowers. But with the arrival of two bike-friendly B&Bs, a revitalized brewpub, and a new bakery, there are plenty of local experts on hand to point you to your piece of pedal paradise.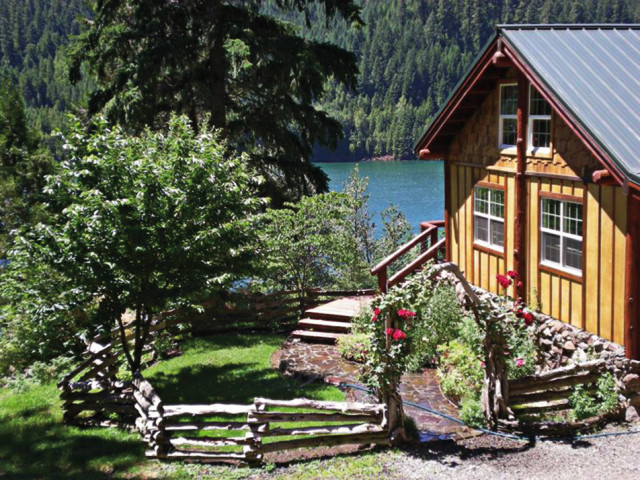 STAY
Double Diamond Lodge B&B 
from $50
Perched on the northern edge of Hills Creek Reservoir, the Double Diamond provides stunning views of Diamond Peak framed by endless pines. Owner Norm Coyer took 12 years to build this dream lodge, putting 40 fir trees from the site to use as brawny beams. Comfortable rooms, organic breakfasts, and a hot tub make for a rustic refuge, while a dock on the reservoir lets you soak up your surroundings (or dive right into them).
from $35
This newly remodeled home opened as a hostel last year, offering a convenient, inexpensive lodging option. It also defies the convention of a "hostel," with light-filled rooms, spacious bathrooms, a communal patio with a hot tub, and complimentary breakfasts of fresh fruit, granola, and seasonal frittatas.
DO
rentals from $35
To tackle the roots, rocks, twists, and turns of Oakridge's trails, you'll need a comfy, full-suspension ride. If you didn't drag your own along with you, Willamette Mountain Mercantile will set you up with the right bike, plus area maps, tool kits, and cheerful advice about current trail conditions.
Randy Dreiling's Oregon Adventures gives bikers access to Oakridge's real singletrack gems. Daily shuttles offer rides to hard-to-reach trailheads—such as the Alpine Trail, an intermediate 15-mile quad-tester through undulating forests and ravines—while three- and five-day group tours let you explore farther afield.
A half-mile hike along a paved trail leads you to this cascade. Plunging 286 feet into a gaping, moss-laden basalt canyon just south of Willamette Pass, Salt Creek Falls is Oregon's second-tallest waterfall (after Multnomah Falls). For a real treat, wind down to the base of the falls, where spray from mountain runoff hurtling down at 50,000 gallons per minute puts you in the middle of the action.
With no sustained ascents or descents but plenty of storybook scenery, the Salmon Creek Trail is a perfect river ride for families and beginners. Starting just east of town, the trail flanks Salmon Creek on two sides: the north side stays smooth and flat, while the south side provides some technical thrills and sharp turns. Salmon Creek Falls marks the turnaround point—a prime spot to refuel beside the river's blue-green pools.
Mountain Therapeutics
Zap the lactic acid from a full day of "Oakridging" in this cozy spa with the weapon of your choice: Swedish, hot rock, or Ashiatsu massage.
EAT
Part brewpub, part café parlor, and part community center, the Brewers Union is the social hub of Oakridge. Several house-brewed, cask-conditioned ales, as well as a selection of other regional microbrews, are available on tap. Savor them with a helping of live blues and bluegrass almost every night.
Lee's Gourmet Garden
47670 Hwy 58, 541-782-2155
You won't find much by way of atmosphere at Lee's, but you will find some seriously good Chinese food. Owner Jeff Lee was a personal chef to Jackie Chan and Robert Redford, and he expertly prepares everything from kung pao chicken to Szechuan beef.
Lion Mountain Bakery
48273 E First St, 541-782-5797
Before you hit the trail, make a pack-stuffing stop at this year-old bakery, where shelves of fresh-baked breads, bagels, brownies, gingerbread, and pies promise row after doughy row of carb-loading options.