Mudroom
Getting Traction
An Oregon-made bulldozer carves forest-friendly trails.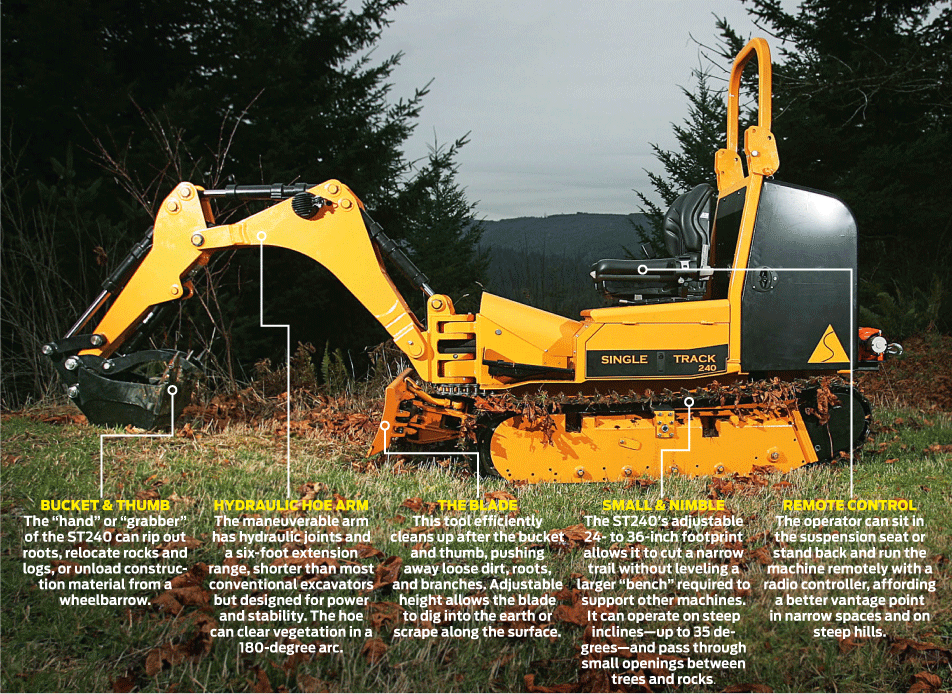 THREE DECADES as an outdoorsman and parkland volunteer taught Barrett Brown the troubles of backwoods trail construction. Hand tools are slow and wear out volunteers; ?construction equipment tears up the landscape.
Brown, a 49-year-old former UPS worker and computer programmer from North Plains (and no relation to this writer), spent the past three and a half years interviewing trail-builders and teaching himself the industrial design and engineering skills needed to create a solution: the Single Track 240. Essentially a mini-excavator combined with a mini-bulldozer, Brown's machine is designed to cut trail through rugged and steep terrain, with a minimal off-trail footprint.
"I want land managers to build the kind of trail that I want to see as a trail user," Brown says. "A trail has to have a certain amount of engineered risk. The wider the trail gets, the more suburban it feels, and the less adventure you have."
The first ST240 rolled out of G-K Machine's manufacturing plant in Donald last December for delivery to South Dakota's Black Hills National Forest. The Oregon Forestry Department deployed the second one this spring to build and maintain mountain bike trails in the Tillamook State Forest. Portland's Northwest Trail Alliance, the first private organization to pony up the approximately $80,000 base price, plans to share its ST240 with other trail-building outfits.