Trail of the Month
Wahtum Lake
Keep cool in the heat with a little wading at Wahtum Lake.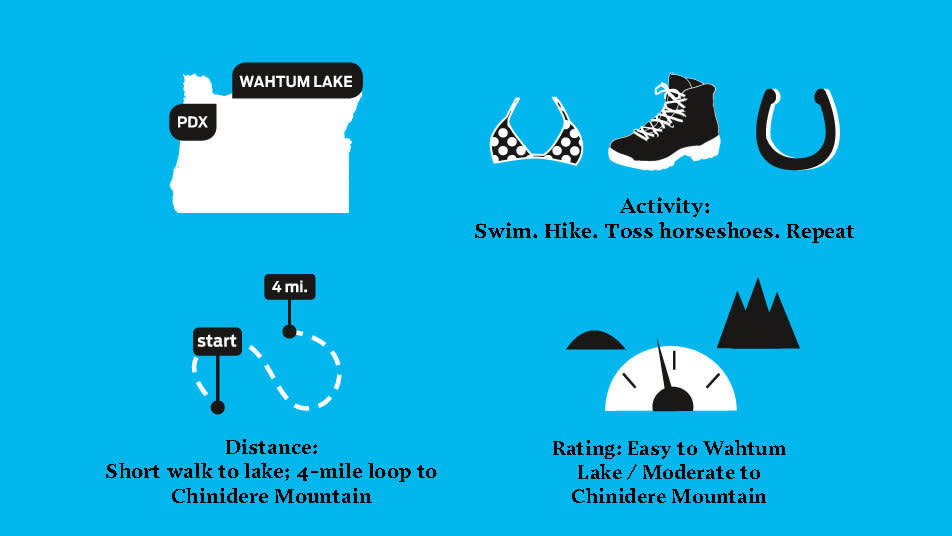 WHY IT'S GREAT Summer's dog days demand an escape from the heat. And the shores of Wahtum Lake provide ready refuge, with icy waters that, this month, warm to just beyond toe-dipping temperature. Set beneath the base of Chinidere Mountain, a 4,673-foot peak deep in the Columbia River Gorge's Hatfield Wilderness, the lake's clear, aqua-hued waters are fringed with old-growth firs, towering hemlocks, and your pick of small, sun-soaked, rocky beaches to wade from. From the trailhead, a long set of steps affords ready access to Wahtum, and a smattering of primitive campsites offer extended lounging. Should you tire of lakeside diversions, several hikes loop near the lake, including the vaunted Pacific Crest Trail, which wends around the water's southern edge and accesses a short spur trail up Chinidere. At the summit, take in blooms of red paintbrush and purple aster, and enjoy the view (and cool breezes) of glacier-clad peaks.
DON'T FORGET Backpackers, take note: Wahtum can also be accessed during multiday treks via both Eagle Creek Trail and Herman Creek Trail in the Gorge.
POST-HIKE WATERING HOLE
Saw Tooth Roadhouse Located within earshot of a working sawmill, the Saw Tooth spins out well-crafted pizzas. The veggie-packed Hitchhiker stands out with nuggets of roasted garlic and sun-dried tomatoes, and pairs well with any of the nine beers on tap. Out back, toss horseshoes beneath the shade from a pair of giant maple trees. 4780 Highway 35, Hood River; 541-354-2511; sawtoothroadhouse.com
TRAILHEAD DIRECTIONS From Hood River, take Highway 281 south to Dee. Then follow Lost Lake Road to Primary Forest Route 13. About one mile past the forest boundary, look for Forest Road 1310. Follow 1310 northwest to the campground. Northwest Forest Pass required. Campsites $12 per night.