Feature
Top Women's Trail Shoes
Danner Sobo Low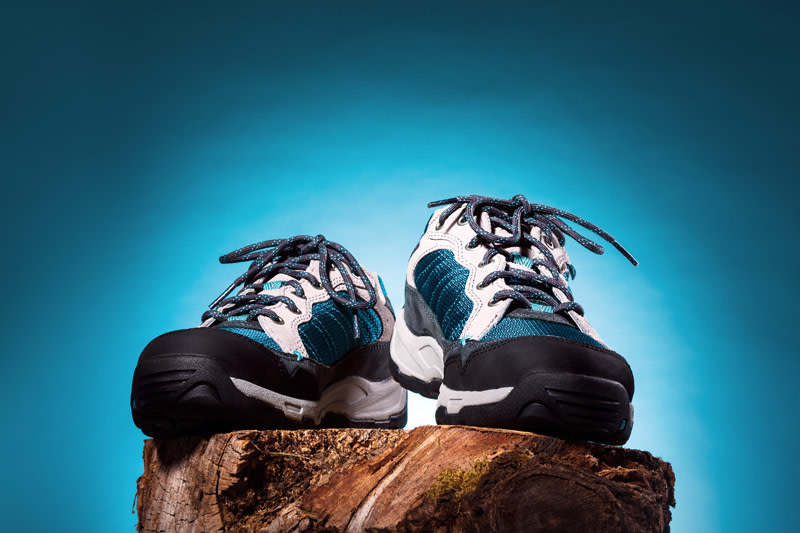 They Say: The SOBO is best suited for the recreational day hiker, hiking on developed and/or well-groomed trails and in dryer conditions.
We Say: Danner nailed it. This Cadillac of comfort's midsole is reinforced with a nylon shank and TPU plate (geek speak for impact-resisting plastics), providing bombproof protection and superior foot support.
Best For: Summer day hikes
High Points: Breathability. Zero foot rot, even on one tester's 100-degree, Las Vegas hike.
Back to the Drawing Board: The laces refuse to stay tied. One tester retied her shoes six times in one day.
Field Notes: "The SOBO seems to be built for a wider foot. Wearers might want to go down half a size."
* Weights listed are for pairs in women's size 7 or men's size 9.
Hi-Tec Harmony Mid WP 
They Say: Light hiking duty, on- or off-trail capable, and comfortable for daily urban life and everything in between.
We Say: If it had more cushioning, this lightweight hiker could be an all-around favorite for day hiking in wet or dry conditions.
High Points: The Harmony's Vibram soles clamp like a pit bull onto everything from mud and gravel to wet, mossy rocks.
Best For: Short day hikes
Back to the Drawing Board: A relatively flat, stiff sole means this shoe is probably only comfortable for people with flat, wide feet.
Crary Pivetta
$650 off the shelf | $1,000 custom-made? 3.5 lbs | craryboots.com
They Say: Our boots are generally used for heavy duty hiking; however, since we do custom boots as well, we can tailor the materials we use to make them lighter weight or heavy duty.
We Say: The Pivetta is proof that sometimes less is not more—more is more! Heavier than some household pets, these kicks aren't exactly svelte, but you'll hardly care once you hit mile 10 and your feet still feel fresh.
Best For: Backpacking or extended trekking trips (Next stop: Nepal!)
High Points: Crary uses leather cushioning in its insoles, an expensive departure from many trail shoes (which often use paper), but worth it when you're logging long miles on rough terrain.
Back to the Drawing Board: This stout shoe requires a lengthy break-in period.
Keen Ambler Mesh 
They Say: The ideal footwear for warm-weather adventures, the Ambler Mesh features a highly breathable mesh upper with waxed suede trim, a sticky Active-traction rubber sole, and a moisture-wicking textile lining. It's a shoe designed to let your feet share in the fresh air.
We Say: In warm conditions, our tester's feet yearned for a bit more air sharing: breathability was OK, but not great. That said, these kicks excelled in the comfort and traction arenas.
Best For: Day hikes on well-groomed trails and rock scrambles, like Angel's Rest
High Points: The Keen.Cush—a blend of memory foam, cork, and recycled plastic—contours nicely to arches and toes, like a firm pillow snuggling up to your feet.
Field Notes: "The full rubber toe cap means you could kick trees for hours in these things and not feel a thing." 
TOP WOMEN'S TRAIL SHOES | TOP MEN'S TRAIL SHOES | TOP COED TRAIL SHOES