phile under: theater
The 39 Steps
Alfred Hitchcock cavorts on the Armory stage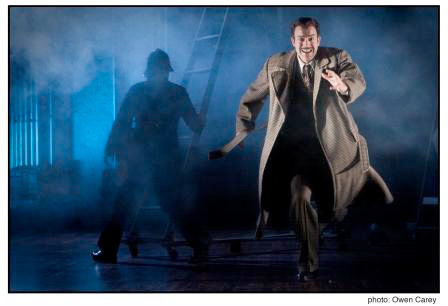 Ooooh, I have such a fondness for stage schtickery.
I mean many-hat-wearing, stage-gun-toting, I'm-driving-this-car-made-of-folding-chairs, and-yes-that-IS-an-overhead-projector-instead-of-live-feed-from-a-mac-book, kinds of capers. Ah, it makes me nostalgic, the old roar of the greasepaint, smell of the crowd.
The 39 Steps at Portland Center Stage is fluffy and diverting, and delivers enough schtick to butter all our bread. The play was adapted by Patrick Barlow and had a successful Broadway run last season. It's an affectionate spoof on the Alfred Hitchcock ouvre.
Our handsome hero (who is repeatedly admired for his wavy brown hair, piercing blue eyes, and pencil mustache) is drawn into a web of intrigue, murder, and double-crossing spies after a mysterious woman takes cover in his shabby London flat. The tale that unfolds is full of beautiful women, dangerous secret agents, and the hair-pin turns of a good thriller.
The lively production is chock full of stage-folksy charm, with just enough story to hang a bits of actor business on. That's really what makes The 39 Steps worth your while. The four cast members play 130 characters between them, with such a hilarious array of hats, and so many florid Scottish accents, that you will be breathless from laughing often enough to excuse the thin plot.
I especially loved a wonderfully silly scene on a train played out by Darius Pierce (Man One) and Ebbe Row Smith (Man Two) and a variety of hats: bobbie, newsboy cap, and train conductor.
*And just wait for the bagpipe parade. The staging is one of the oldest gags in the book, and there's a reason that the classics endure. Just hilarious.
The stage and lighting, designed by Justin Townsend, is just as much fun as the acting. The low-tech projections in particular brilliantly evoke the black-and-white world of a Hitchcock movie, while never loosing the comedic touch of the play. And the use of window frames, to climb through, dive through, mime behind, and make great escapes, feels endlessly inventive.
What could be better for a cold rainy night, after a long week, than cozying up to a cotton-candy weight story full of inventive diversions? Stop by the Armory, buy a ticket, and then warm up with a fancy drink at Tear Drop , or a good brew at Deschutes. Shimmy on back to the theater for the 7:30 curtain.
See you there?