phile under: Theater
Shakespeare Unmoored
ART's Othello is a near miss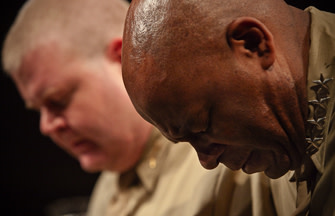 Re-imagining the Shakespearean world is nothing new. It's a tried-and-true method for providing a more familiar context to the Bard's 17th century themes. However, some play-and-setting combinations work better than others. The Artists Repertory Theatre's production of Othello attempts to place the beleaguered titular character in a 1940s film noir-style milieu. A slowly revolving ceiling fan; brushed aluminum chairs; an upright piano; you get the idea. The costumes are straight out of Casablanca. And all seems well and good when you first take it in. Othello is a general. He's fighting in a foreign war. He doesn't trust his wife.
But some of the specifics get a bit fuzzy. There is a discrepancy about World War II soldiers going from Venice to Cypress to fight the Turks. And director Jon Kretzu appears to only have ventured about halfway in his aim of establishing that '40s film feel. The soliloquies are tailor-made for the noir treatment. An actor steps to the front of the stage, gets a spotlight, and voila! He's a P.I. named Iago—who knew that dame Desdemona was nothing but trouble. But instead, these dramatic moments are given a straight reading, with the results being decidedly muted under the full stage lighting. When the stage props and the costumes are the only aspects of the play that are consistently true to the time period, then it's probably best to stick with the Elizabethan template. In my estimation, setting the action during World War II did nothing to enhance the drama.
Staging incongruities aside, the production suffered from a lack of movement. Clocking in on the far side of three hours, Othello is an undertaking both for the actors and the audience. The iambs did not undulate in the gentle rhythm that they should. There must be a distinct flow to carry us along with the Moor's mounting paranoia. While some of the secondary characters (e.g., Alec Wilson as the gullible Roderigo) seemed to have a genuine affinity for their roles, crucial interactions were stiff and broke the illusion of the tableau—falling short both as Shakespeare and Spillane. And there were certainly a lot of gunshots. Go if you're a die-hard Shakespeare buff, but The Big Sleep is better left to Bogart and Bacall.