Gallery Guide
The Book of Crumb
Misanthrope in the Garden of Eden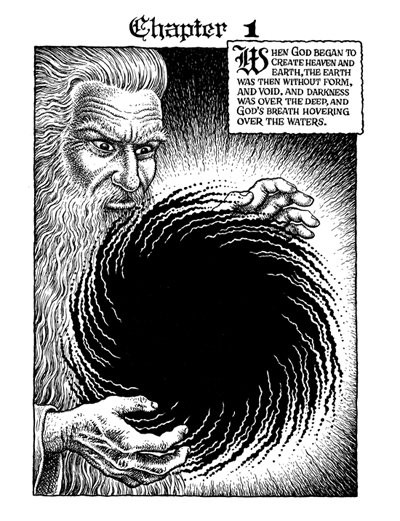 And R. Crumb said, "Let there be bosoms and vast buttocks." And we saw that it was good.
If you go to church, then you've heard of the book of Genesis. If you're immersed in the world of underground comics, then you've definitely heard of R. Crumb. But you probably haven't heard of these two in the same sentence. Well prepare for a cross-culture comics catechism!
Q: What kind of man is R. Crumb?
A: R. Crumb is an unabashedly perverse cultural misanthrope known the world over for his highly detailed drawings of large uninhibited women, goofy spiritual seekers, and old blues singers (not to mention "Keep On Truckin'" and the cover art for Cheap Thrills, Janis Joplin's classic album with Big Brother and the Holding Company) and for his bawdy, surreal approach to comics.
Q: How many drawings did he do for his Book of Genesis project?
A: 207 illustrious pages!
Q: And how many are on view starting Saturday at the Portland Art Museum?
A: All of them!
Q: What does God look like according to R. Crumb?
A: White beard, white robe, furrowed brow and big as the cosmos oh my!
The Bible Illuminated: R. Crumb's Book of Genesis presents black-and-white drawings by the artist along with narrative text to guide you through all your favorite Old Testament shenanigans. Everything from "On the seventh day he rested" to snakes and apples to Amazonian biblical heroines. Anyone familiar with his style will immediately recognize Crumb's brooding, heavily-inked figures and intensely detailed panels. And his take on the biblical canon is certainly something to see. The text might be the same old same old, but the graphic inferences in the panels themselves give you a little something extra that only the wild and worldly Crumb can provide. While you're at the museum, stop by and compare his line-work with that of the Masters on display in A Pioneering Collection: Master Drawings from the Crocker Art Museum. Admission is $12 for adults and $9 for students and seniors. Free for members.