phile under: cultural recycling
Five Questions for Filmusik's Galen Huckins
Local maestro puts new sounds in old cinema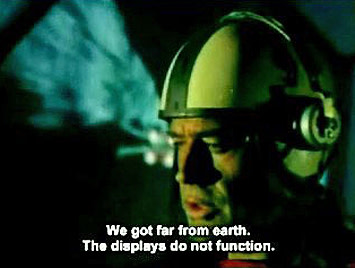 The title may be unfamiliar but its reputation precedes it. Dünyayi Kurtaran Adam (aka, The Man Who Saves the World) is the infamous 1982 Turkish Star Wars "remake," that recently played to a packed house at the Hollywood Theatre. With its bargain-basement production, cheap monster costumes, ridiculous martial artistry and stolen and mangled clips from the real Star Wars, this movie, in theory, couldn't sell out a telephone booth.
But the Filmusik version of Dünyayi Kurtaran Adam was a different animal. Every sound heard in the film was performed live. Galen Huckins is the leader and driving force behind Filmusik, an ambitious arts collective that once again has successfully breathed new life into a piece of cinematic trash. With an original score, deftly executed by the Filmusik chamber orchestra and five electric guitarists, and with contributions from professional voice actors and foley artists on the dialogue and sound effects, Huckins's ensemble prove to be masters of cultural recycling.
The next production in Filmusik's busy schedule is a screening and sound treatment of Will Vinton's 1979 claymation productions, The Little Prince and Rip Van Winkle (Nov. 11, 12 and 14). Miraculously, Huckins was able to secure all of the original voices that appear in the films, as well as compose a new, original soundtrack for the stop-motion classics, with veteran animator Vinton himself along for the ride as a collaborator on the project.
It's a lot of work, just to show a movie. We asked Galen Huckins to share his inspiration with us.
Why Turkish Star Wars?
We just started our Late Night series that pairs esoteric foreign cinema with local performing artists and composers. Turkish Star Wars is really an amazing film; the audacity of it and the martial arts make for a very rock and roll show. We always enjoy working with strange material because the viewer has so few expectations going into it.
How long have you been doing this?
This is our third season as Filmusik. Our first project in 2008 paired 6 different composers with the Fliescher animated Superman cartoons from the 1940s. Since then we've done live soundtracks for sci-fi with electronica and string quartet, a spaghetti western with a 40-voice chorus, Japanese monster movies and many others. We always have something in the works.
What¹s on the calendar for Filmusik?
On November 11th 12th and 14th we're teaming up with the famous Portland-based claymation studio Will Vinton for a live soundtrack show. We are performing a live score for their classic clay animated film "The Little Prince" made in 1979. We are honored to be working with the original cast now 30 years later to perform the dialog live with the film with live music and sound effects. It's going to be a remarkable show and it showcases the work of Portland artists from the 1970s to today!
Where did the idea for performing live movie scores come from?
I was inspired largely by the silent film era of film accompaniment where live musicians were the norm. Having performers at movies was part of the theatre experience; whether it was live narrators (or "Benshi") in Japan, live orchestras in Europe or Wurlitzer theater organists in the United States. It created an environment for music and for musicians and composers that fostered grand output and creativity. We strive to create opportunities for live music over canned music, for live and local performers to be a more regular part of our lives.
Are there any recent films that you¹d like to re-write the soundtrack for?
More than re-imagining new material, I'd love to inspire live film accompaniment of movie soundtracks by contemporary artists. There's a lot of film coming out of Oregon, a lot of local musicians whose work appears in movies. It would be great to put together screenings of contemporary film with local musicians and bands. When you see a film with live performers, it engages you in a way that a static medium cannot. There is a vibrancy to it that reminds you of the person-to-person connection you experience at a concert.