Article
Review: Thief River
It's a tough row to hoe, but Profile Theatre carries off this theatrically challenging country love story.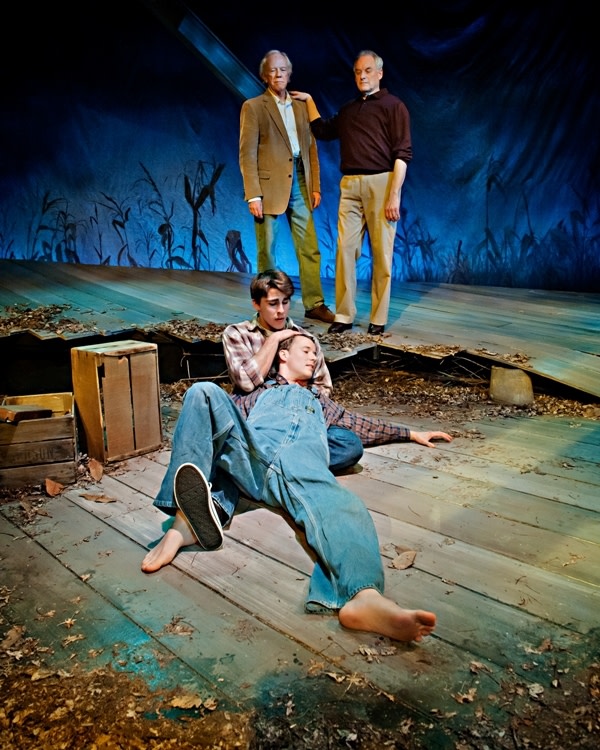 Gil and Ray are the main characters. They're in love. They're gay. All right so far? Okay.
Now, the story spans about 50 years, from when they're 18 to when they're 70-something. So, the couple is played by three pairs of actors—one young, one middle-aged, and one elderly. Six actors. Still with me? Okay.
So the couple, Gil and Ray, are not the only characters in the play. A few minor characters are smattered throughout the action: a dangerous vagrant, a young gay lover, a grandfather, a neighbor, a stranger, and a grandson. Hey, actually…that's six. Six minor characters, played by…drumroll…the same six actors who play the leads.
"Is that weird?" you ask.
Yes, it's weird. And the weirdest part is that it works.
Last night, on a cunningly tilted stage made of blanched barn-wood and drifts of dried leaves, Profile Theatre pulled off a preview of the Pulitzer-winning Lee Blessing love story, with seemingly perfect tech. Performances, meanwhile, ranged between competent and excellent, and the determining factor was believability. To be fair, this production stacks each actor with a compound burden:
To establish a motivation (the typical acting challenge)
To differentiate his two characters, and
In most instances, to convince the audience that he's a country boy.
The old guys (Tobias Andersen and Shelly Lipkin) held down the country attitude best—and especially in their minor character roles. Angry old man Anson, and moderate old codger Perry, wore their country clothes and a farm-worn physicality with convincing cred. Andy Lee-Hillstrom's bit part as stuttering small-town teen Jody also seemed like the real deal—while his lead character, 18-year-old Gil, seemed a lot more "Matthew Broderick" than you'd expect—either from the character, or from an actor whose résumé puts him in Idaho and Salem for most of his career. While it was easy to like Hillstrom's Gil, it was hard to detect even a hint of hayseed. Jason Maniccia was the most dichotomous performer, portraying a great Gil, but at the time of this preview performance, utterly unconvincing in his secondary role as a murderous hobo. Meanwhile, Jack Morrison was the most consistent: his guileless, "all-American" portrayal of a young Ray was equally as believable and sympathetic, as his charismatically queeny minor character, Kit. The best chemistry happened when Maniccia and Morrison shared the stage as Gil and Kit.
Despite the script's playing fast and loose with chronology and character-swaps, these six actors held the drama together admirably, and the production should only get stronger as the cast wood-sheds for opening weekend. The play is currently shaping up to be at least a "should-see," with the potential to winnow into a "must."
Thief River runs Feb 4-27. For more upcoming arts events, visit PoMo's Arts & Entertainment Calendar, stream content with our RSS feed or sign up for our weekly On The Town Newsletter!