Mudroom
High App-titude
Night & Day Studios takes the iFun world by storm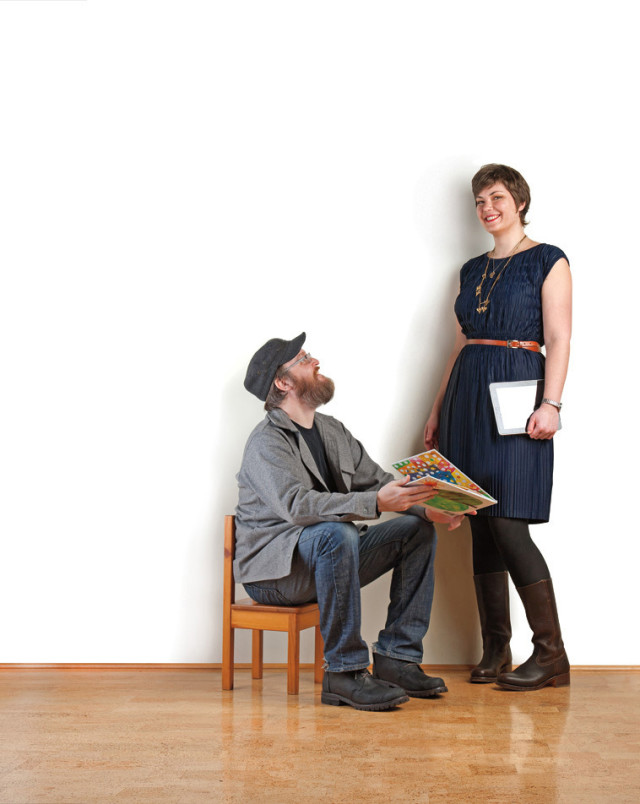 STARK, ELEGANT illustrations light up an iPhone: silvery aspen trees, a lush forest, a moonlit pile of logs. As the scenery changes, cute animals peek out here and there. The simple, graphic animation—based on the work of Charley Harper, the famed modernist wildlife artist who died in 2007—turns the tiny screen into a whimsical handmade world.
This is Peekaboo Forest, the third installment in a popular series of kid-targeted apps made by Portland's Night & Day Studios. The franchise launched four years ago with Peekaboo Barn, which iPhone and iPad users have since downloaded 400,000 times at $1.99 apiece. When Forest debuted in 2010, it shot to no. 2 on Apple's educational best-sellers chart. For a small local firm, the Peekaboo series represents unplanned (but critically acclaimed) success in a creatively fertile but commercially untested medium.
California native Nat Sims founded Night & Day in 2006, initially as a museum exhibit design company. But a tanking economy soon left him with an idle staff and no income. To boost morale (and entertain Sims's 3-year-old daughter), the studio hammered out Peekaboo Barn, complete with adorable cartoon barnyard animals and narration in both English and Spanish. Wired magazine praised Barn as "well-crafted entertainment for toddlers without a lot of flash, dash, or fluff."
"We became weirdly famous," says Erin Rackelman, Night & Day's marketing director and co-owner. "We were the 'Peekaboo Barn People.'" The company soon struck licensing deals with famed children's illustrators (or their estates), including Harper, Eric Carle, Richard Scarry, and Ed Emberley.
The trick, though, is turning popularity into money. Apple takes a 30 percent cut and insists on low prices. Last year, Night & Day grossed about a quarter million dollars—a total it hopes to triple this year.
In February, the firm unveiled an app based on the hip kids' show Yo Gabba Gabba; projects for the Fox network and Lucha Libre, the Mexican wrestling organization, are on the way. But the company's ultimate goal is to invert this business model. "We want to create brands," says Rackelman. Judging by their Barn brainstorm, they may have the touch.