theater
Review: The Scene
This stunning portrait of mid-life disillusionment transcends any single "scene." Culturephile gives it a standing ovation.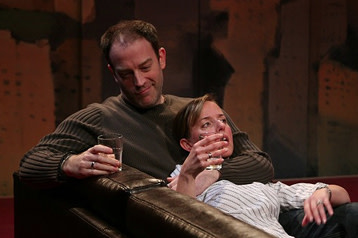 "Surreal" is the first and last word in The Scene. At the beginning, the word is giggled by a seemingly clueless coquette, and at the end, it's spat by a broken man.
In the meantime, Theresa Rebeck's relentlessly quotable dialogue and mindbending storyline show that:
• It's surreal how quickly the balance of power can shift in a given "scene."
• People who are simultaneously magnetic and repellent, seem surreal.
• It's surreal how readily middle-aged men will throw their lives (and wives) away for a quick-and-dirty ego boost from a younger woman.
Okay, okay. That last point might've been a spoiler. But as it enters its closing weekend at Portland Playhouse, it's high time somebody springs The Scene 's strongest selling-point: The play that's been called "a blistering satire…that jabs its sharp fingers into the underside of the entertainment industry," is also a deeply relevant exploration of the complex dynamics of marital infidelity and the psychology of midlife crisis. Don't care about Manhattan? Go see this play anyway. I promise it hits close to home.
"Don't you get it? I don't want anything real!" exclaims middle-aged Charlie to his freshly-wounded wife Stella when she discovers his affair. Leif Norby brings as much empathy as possible to the role of a prideful, indolent out-of-work actor, letting just a hint of charm glimmer through the character's caustic tarnish. Charlie's clearly been looking for meaning ("Enlightenment? Remember when that used to be a goal?"), but has found only superficiality on "the scene." So, without thinking, he opts to destroy the life that's disappointed him by pursuing a fleeting affair.
Stella, accused by her husband of being "too competent," proves so even in her grief. Amid torrents of heartbroken tears, she pauses to say, "I'm sorry; I don't want to get snot on your shirt." Actress Laura Faye Smith moves fluidly from secure careerwoman and wife, to shocked victim, tempering a deep pain with instinctive self-restraint even as she surveys the rubble of her crumbling marriage, murmuring "All I'll ever have, is nothing."
Lewis is a secondary character, probably best described as "the friend." Ty Hewitt is rock-solid in the role, playing the man of few words with alternately shrugging and supportive gestures that reveal his divided sympathies. Despite not wanting to be, he finds himself "in the middle of it."
But the star (or in this case, more like a black hole) of The Scene is the babbly-yet-conniving Clea, a character whose complexity cannot be overstated, and may even be unparalleled in modern theater. It's baffling to imagine a playwright as perceptive as Theresa Rebeck evidently is, carefully constructing a character as realistically inarticulate and soulless as Clea. Less a human being than a reptile ideally adapted to the entertainment climate, Clea slinks around running her pretty/contradictory/appalling mouth with a dismissive air of entitlement. "Like I said, I don't drink, but obviously sometimes it just has to happen," she tells Lewis, teetering as she drains his vodka supply. "I make [your husband] feel like a lion," she later tells Stella, going on to flippantly call her "some sort of nazi priestess." Actress Nikki Weaver, bra-straps akimbo, holds the room in a hypnotic thrall, even when Clea almost literally kicks her new lover to the curb, breezily suggesting, "Pull yourself together, Charlie. It's just a party." Though at times Clea is comical and even playful, full of bounce and "wow" exclamations, she's also incredibly manipulative and pushy. She lights up and turns off with electric precision, and her unpredictability demonstrates the awesome allure of the dangerously cavalier flirt.
Director Tamara Fisch has staged The Scene like recent Playhouse production Dying City , with simple, modern home-decor pieces shuffled around for quick changeovers. But with acting this exquisite and material this brilliant, you don't need an ornate frame. Almost every line of dialogue is quote-worthy, and almost every moment between characters, is a moment of epiphany. This play is so potent…it's surreal.
For more about Portland arts events, visit PoMo's Arts & Entertainment Calendar, stream content with an RSS feed, or sign up for our weekly On The Town Newsletter!