theater
Review: Reasons To Be Pretty
This Coho Theater production delivers the most realistic lovers' quarrels, and the lowest dose of surprise. If you like theater that "keeps it real," you'll love Reasons To Be Pretty.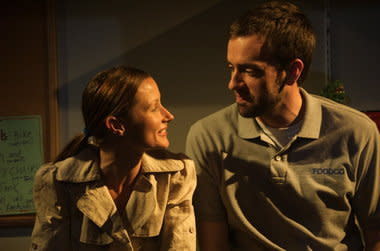 Dying City, Jack Goes Boating, The Scene —and now, Coho Theater's Reasons To Be Pretty. I don't know whether to chalk it up to my own selection bias or a burgeoning trend, but this theater season seems to have been peppered with intimate love-and-loss dialogue dramas that eavesdrop on childless couples as they battle their individual and shared insecurities.
From this group, Pretty is by far the most realistic play. As the audience looks on, personal conflicts build up, climax, and then subside into mild and mature resolution. Conversations are not condensed; instead they seem to take place in real time, with repetitive, overlapping, and (realistically) ineloquent exclamations. The play's many shouting matches are held in various "public" settings (the mall food court, the workplace breakroom, the apartment rooftop, the baseball diamond…) drawing the audience further into the premise. "I don't care who hears me; I don't know any of these people!" Stephanie (Nikki Weaver) shrilly exclaims as she and her boyfriend fight in the food court, looking defiantly around at the audience to cement the impression that we are really overhearing them. It's indisputable that playwright Neil LaBute "keeps it real." The question then becomes, does he keep it interesting?
Prior to producing Pretty, LaBute penned screenplays for The Wicker Man and Lakeview Terrace—both taut, paranoid thrillers with life-or-death stakes. Maybe after that he needed a break, and wrote Pretty to decompress and get back to dialogue, basic psychology, and the day-to-day mundane. And boy, did he grab that gauntlet, creating four completely empathetic yet relatively unremarkable "everymen."
An adept cast fleshes out their archetypes and breathes emotion into the no-frills dialogue, with Greg (Casey McFeron) solidly maintaining the straight-man stance for the others to struggle against. John San Nicolas (last seen in Jack Goes Boating) is a hugely charismatic character actor, playing the affably immature Kent with effortless coordination and a bit of a wink. Kelly Tallent gives a sympathetic performance that teeters on the edge of exaggeration and artifice—but that's arguably appropriate for Carli, the slightly dippy, reactionary character she plays. Nikki Weaver (last seen in Scene) pulls off the role of Stephanie, but seems distractingly ill-suited to it, since a key plot point is that her character doesn't have a pretty face—yet Ms. Weaver undeniably does. Hearing a pretty woman repeatedly declared "plain" becomes the biggest stumbling-block to the play's overall believability. Where's a prosthetic warty witch-nose when you need one?
It's easy to identify with these characters, to see oneself mirrored in one or more of their plights. What's harder is to learn from them, or to be deeply amused or amazed. Where Jack had idiosyncratically innocent characters, Dying City delved into grief and war veteran issues, and Scene featured bold personalities and shocking twists, Pretty 's characters are more or less normal people, expressing the usual concerns, exhibiting the typical reactions, and reach the inevitable conclusions.
Like a painting that mimics a photo, this play is an exercise in faithful recreation, and hence, a pure exploration of the object itself (in this case, the adult romantic relationship). Whether or not it moves you, you can appreciate it for how well it captures its subject. Pretty also satisfies the theater-goer's natural voyeurism, allowing you to skulk in the imaginary bushes and overhear juicy conversations that shouldn't concern you. If you enjoy character studies and vicarious living, this might be exactly your ticket. But be forewarned: If you have enough of your own relationship "drama," this play is more likely to rehash it, than shed any new light.
For more about Portland arts events, visit PoMo's Arts & Entertainment Calendar, stream content with an RSS feed, or sign up for our weekly On The Town Newsletter!