kitsch-you!
Review: Trek in the Park
Intrepid Portland Monthly intern Griffin Funk takes a Trek to Woodlawn Park to see what all the buzz is about.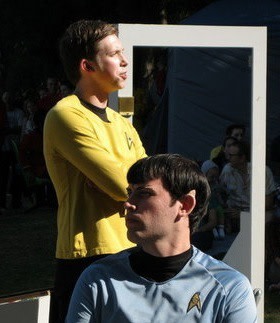 In Woodlawn Park last Saturday afternoon, Trekkies laid down blankets, read books and discussed the use of the Moog Theremin. A woman playing a Star Trek themed version of "Uno" slapped down a card and exclaimed, "Uno! I'm a doctor!" referring to a character catchphrase from the series. My clumsy attempts to converse by name-dropping Yoda, Chewy and Darth Vader were immediately quashed. In the words of one bystander, "That topic is taboo here." At any moment, I worried that our whole crew might be ambushed and noogied into submission by a gang of jocks—but I'd gladly risk it to catch Atomic Arts' Trek in The Park, a live, outdoor, lo-fi re-enactment of a classic 60's Trek episode, "Mirror Mirror."
The episode, which the man standing next to me in a Starship Enterprise t-shirt referred to as "beloved," first aired in 1967, depicting the "interdimensional transfer" of Captain Kirk, Dr. McCoy, Scotty and Lt. Uhura to an evil version of the Enterprise where assassination, torture and brutal murder are the norm. Captain Kirk eloquently sums up the situation when he states, "It's our Enterprise… but it isn't." This tale of moral contingency proves ripe for a self-aware and adoring retelling from the Atomic Arts crew.
Adam Rosko, who also directs the show, plays Kirk. In the spirit of William Shatner, Rosko portrays a confident, swaggering Captain, but there's a key difference: Rosko's Kirk is fully aware that some of his lines will induce wild laughter from the all-ages Trekkie crowd. To accomodate this, he "milks" certain lines and takes longer pauses. Jesse Graff, meanwhile, acts appropriately stoic as Vulcan Mr. Spock, refusing to crack even when the crowd comes unglued. Intergalactic soundscapes from Peter Dean and Isopod help mentally transport the audience from the verdant, sunlit Woodlawn Park amphitheater to the dark, sparkly realm of space travel. Meanwhile, Steven Schmucker provides impeccably timed sound effects which successfully create props and objects that are not physically there. Of course, the park atmosphere does its best to encroach, with honking cars, planes flying overhead and babies crying. Taking these interruptions in stride, the group dramatically pauses and gazes skyward until the noise subsides.
Since the original script was written for television and not the stage, some modifications have been made. Moments that would typically usher in a commercial break, usually signified by a Captain Kirk voice over starting with "Captain's log: Star Date unknown…" are played straight through. Also, in lieu of "beam-me-up" special effects, four women called the "Magnetic Storm Girls" parade around in shimmery gold sequined dresses as synthesized space noises stream through the amplifier. These live action alterations add to the quirky, lighthearted character of the performance.
The nearly hour-long show features several athletic, gut-busting fight scenes, and actors brandish plenty of hilarious homemade knives and phaser guns. This playful violence elicits plenty of cheers, whistles, and laughter—especially when Captain Kirk defeats Evil Mr. Spock.
The popularity of the show has clearly outgrown the confines of Woodlawn Park; the small amphitheater has been filled to capacity throughout the play's run, forcing many to stand, and even more to sit down on the lawn where dialogue is hard to hear. This is an issue that Rosko has addressed, but he maintains that the troupe will finish out the third season of Trek in the Park at Woodlawn. So, if you are planning on catching the closing weekend (July 30-31), Spock ears and a homemade phaser gun are optional—but early arrival is mandatory.
For more about Portland arts events, visit PoMo's Arts & Entertainment Calendar, stream content with an RSS feed, or sign up for our weekly On The Town Newsletter!