for the birds
TBA 2011: Whispering Pines
Moulton and Hallett go exploring…but end up back at square one.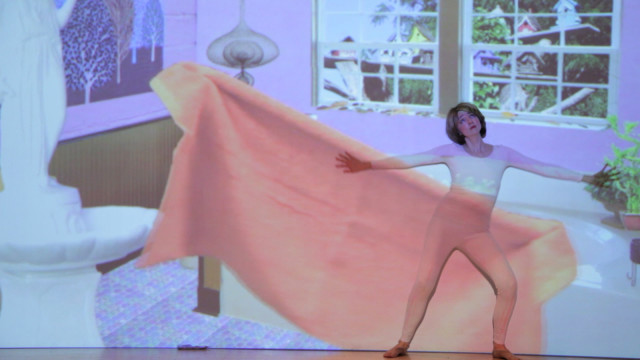 Cynthia rolls out of bed in the morning into a comical Pee-Wee's Playhouse-style virtual environment full of bric-a-brac and birdhouses, little knowing that her life's about to permanently change. As she goes about her daily routine—which includes exercise on a yoga ball and an exaggeratedly luxurious bath—silly singing spirit guides emerge, eventually coaxing her to climb to the top of a giant redwood tree, plumb the depths of the cosmos, and return to her own world with a new sense of purpose.
The visual vocabulary remains absurd and lighthearted throughout: the universe is a default purple star-field Macintosh screen-saver, onscreen "props" respond to Cynthia's hands with a "click and drag" motion, and each item in the backdrop looks deliberately foreshortened and fake. However, the philosophical challenge posed by "Butterfly," a Feist-like singer in tye dye, is all too real: how will Cynthia push beyond her mundane day-to-day existence and self-actualize?
The profundity of this premise buoys the whimsy to a point, but starts to deflate when we realize that Cynthia's big epiphany is shaping up to be, "I should totally feed more birds." After all that adventure, we find we've only actually travelled a few strip-mall yards from the Pottery Barn to the Garden Center.
It's almost impossible to see this piece without comparing it to a local work, Erin Leddy's My Mind Is Like An Open Meadow. Both are one-woman shows with contemporary original scores. Both performers sport shapeless blue housedresses and generic graying lady-wigs. But where Leddy takes audiences to unusually honest and personal places, Shana Moulton ("Cynthia") seems to skim the surface. Even the topics of infirmity, death, and self-sacrifice are translated into such goofy iconography, that they're effectively trivialized. If this is the intention—bravo. Winking dismissiveness is certainly a contemporary tradition, despite the fact that it's not this reviewer's preference.
We can't deny that this journey is comical, innovative, and idiosyncratic. It's a showcase of cool digital tricks and techniques, and a forum for some sweet-sounding songs, both pop and opera. But if, like Cynthia, you're seeking meaningful answers—then you'll need to look further.
For more about Portland arts events, visit PoMo's Arts & Entertainment Calendar, stream content with an RSS feed, or sign up for our weekly On The Town Newsletter!