rights of passage
Review: Gem of the Ocean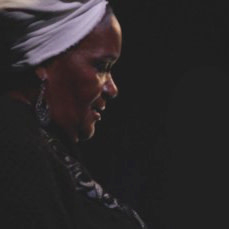 Set in Pittsburgh, 1904, Gem of the Ocean takes on a hefty burden: the post-slavery shockwaves that racked the African American community just after the civil war. In Alabama, we're told, angry whites continued to attack and persecute their erstwhile human "property," while even in northern beacons of brotherhood like Pennsylvania, black and white businessmen alike exploited a vulnerable new work force for cheap labor and huge profits. Needless to say, Ocean is not supposed to be a pleasure cruise, but it does carry a few kernels of hope and faith, and many of its observations (both positive and negative) about the human experience, still ring true today.
Playwright August Wilson has already received his accolades from Pulitzer, so there's almost no point critiquing this play's content. It's historically relevant, emotionally fraught, and pretty well beyond reproof. But Portland Playhouse 's production has brought its own flavor to the drama, along with a very talented cast of actors. Because the play is almost 3 hours long, feeling more like a miniseries than a mere episode, there's plenty of time to savor each player's performance—to root for the good guys, hate the villain, and grasp the gravity of the societal predicament. Here are your companions on the journey:
Aunt Ester
The show's obvious star, Brenda E. Phillips embodies "head of household." The matriarch sets her own unhurried pace, and her words flow forth with calm conviction and the occasional twinkle of charm. A wave of her hand dispatches her helpers to their tasks, so she can focus on speaking profound spiritual truths. "It all will come to stand in the light," she proclaims, implying that maybe the truth—like her—will take its sweet time.
Citizen Barlow
After seeing Vin Shambry rock last season's Superior Donuts, Culturephile expected a star performance here. But Shambry doesn't seem 100% comfortable playing a downtrodden southerner. Maybe the old, alien dialect and blocking that reins in his natural bounciness, buffer the actor from his body and the plot—or distance those of us who remember him in such a different role. Even so, he prevails during his character's high-pressure moments, sweating and trembling like a haunted man.
Black Mary
As she busies herself with the housework, the aproned Andrea White keeps a slightly distant persona. The script also hints that her character is hard to get to know. But her few outbursts of emotion could be better foreshadowed by more body-language cues during her non-speaking stage time.
Eli
Victor Mack creates a unique character with a wheezing voice and expressively rolling eyes. He's intentionally a little comical, and believable as Aunt Ester's helper—but at times his words get lost in his affectation. You might have to strain to catch some of his quips.
Rutherford Selig
As the sole white visitor to Aunt Ester's household, David Seitz doesn't get much to say, but he holds his own.
Solly Two Kings
Kevyn Morrow plays a resourceful former underground railroad coordinator and jack-of-all trades who is at turns flirty, mischevious, and stone-cold-dead-serious. Morrow deftly rotates his character to show off many facets, and readily puts a twinkle in Aunt Ester's eye. Solly, a highly symbolic role, literally "walks softly but carries a big stick" that he refers to as his "bone breaker." He's quick to point out God's inconsistency in the dual suggestion of "smiting enemies" and "turning the other cheek," but he seems willing to do a little of both.
Caesar Wilks
The self-described "boss man around here," Kevin Jones plays an exploiter who swoops in to oppress his own people after slavery has stopped. He gives a chilling performance, ranting against "n—s" and Abraham Lincoln. Not only is he despicable, but he really seems to believe he's right.
While the actors should be lauded, the set design is ripe for reproach: Woodwork, flooring, and backdrop are all distractingly doused in flat teal paint. The few touches of homey brown antiquity that are left alone, only bring the screaming aquamarine further to the fore. Yes, we get that the implication of "ocean" here, but overall this overbearing creative choice makes it harder for an audience to get immersed (pardon the pun) in a historical time and place. Since the World Trade Center is a new venue for the Playhouse, and their usual former church space is being reviewed for re-zoning, we'll chalk it up to last-minute problem-solving and tuck snarky "keeping it teal" remarks away.
Ultimately, the performances outshine the set design, and this cathartic and challenging drama is another strong show from Portland Playhouse. When the company returns to their old building, they can add a fresh notch to the steeple.
For more about Portland arts events, visit PoMo's Arts & Entertainment Calendar, stream content with an RSS feed, or sign up for our weekly On The Town Newsletter!