brass belles
Glengarry with Gals?
David Mamet's Glengarry, Glen Ross has been restaged to include women. Do they sell it?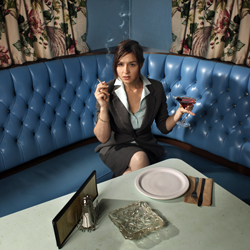 Here at the PM offices, mere feet from the cubicle where Culturephile is honed into relative readability, there is a chart. On the chart are large red drawings of partially-filled thermometers, which represent—you guessed it—staff sales goals. Three out of four of the names on this chart are women's, and all of the corresponding thermometers are, at the time of this post, relatively full. The old notion that sales is a man's game, is clearly passé.
It was a reasonable instinct, then, that drove director Tamara Carroll to split Defunkt Theater's staging of Mamet classic Glengarry, Glen Ross evenly between genders, laying the juiciest plum roles (Levene and Roma) on the sales ladies. "We hope that the context draws attention to and questions the notion that power and masculinity are synonymous," she writes in the playbill. "Are power and aggression exclusively masculine traits? How are men and women perceived differently saying the same words? Do women need to behave like men to succeed in predominately male fields?" Relevant questions all, though not earth-shattering for many workplace women (including this reviewer) who've already given this topic tons of thought. Perhaps it was a bigger eye-opener for male audience members, or a way for the small company's cast to stretch their own acting muscles.
To that end, Roma (Grace Carter) rules the stage, striding around in a fitted feminine pantsuit and alternating between brash bravado and soft, seductive cajoling. Since Defunkt zealously adheres to the original Mamet script, Carter has to sell lines like,"Who ever told you that you could work with men?"—and she does so remarkably well. Less convincing at the performance Culturephile saw, was her counterpart Lori Sue Hoffman in the role of Shelley Levene. Hoffman raced through many of her lines and swore with a jarringly unnatural inflection. Ultimately, it was hard to tell where the nervousness of the character overlapped with that of the actor. Hopefully as the run wears on, her anxiety will subside and Hoffman will own the role rather than vice versa. Overall, the implications of the womens' gender in the workplace might have been pushed a little farther through bolder blocking. Roma's seductive advantage over her male client could have been demonstrated more overtly, or Hoffman could have used more movement to play up the "act like a man to make it" motto.
Defunkt's choice to honor Mamet's original script is arguably more controversial than the inclusion of women; in fact, those most familiar with Glengarry in its movie or Broadway form should brace for a couple of surprises.
In the 2005 Broadway rewrite of the play he penned in '84, Mamet removed ethnic slurs against East Indian Americans from the script. Oddly enough, Defunkt reinstates them. To this reviewer, however, this seems a defensible choice. Though the words aren't right, they help show what's wrong with the characters. Watching the salesmen make bigoted remarks, the audience quickly understands that this is a play without protagonists. When the salesmen quickly judge a "Patel" lead as a dud, we see how their need to make numbers and spot trends has the nasty side effect of indulging their prejudices and de-humanizing their customer base. It also illustrates an all too familiar behind-closed-doors office culture of mutually insured destruction, where all parties engage in "HR violations" with the tacit understanding that said violations don't leave the room. This type of loose talk may not be easy to listen to, but it's valid to portray.
But now, the worst news for film fans: There is no "Alec Baldwin" character (Blake) in the original Mamet script, and hence none in the Defunkt production! While not original, Blake's lines have, for many, become indispensable to the story. On a par with "You can't handle the truth" from A Few Good Men, or "You complete me" from Jerry Mcguire, the unforgettable Blake zingers have etched themselves firmly into mass memory: "My watch costs more than your car!" "My name is 'F—- You, that's my name." "First prize is a Cadillac El Dorado, second prize is a set of steak knives, and third prize is you're fired!"
In a Glengarry staging where none of this gets said, the missing lines ring louder than the spoken ones. To borrow a phrase from Blake, it takes brass balls to exclude this character.
The play on the whole had an unfinished feel. The intermission crept up unannounced, and the ending gradually dawned with no curtain call. That might've been attributable to the fact that in the second act there was no curtain; still, when the lights came up for the final time to no final applause, and no bowing actors, there was a sense that the work was left incomplete. Whether you're a man or a woman, there are rules in this business, and one of them is, "Always be closing." Hopefully the remainder of the run will meet its targets.
For more about Portland arts events, visit PoMo's Arts & Entertainment Calendar, stream content with an RSS feed, or sign up for our weekly On The Town Newsletter!