theater review
Oklahoma! Closing Thoughts
A look back on the discussion that the all-black production inspired, and an apt comparison to another current production: Gem of the Ocean.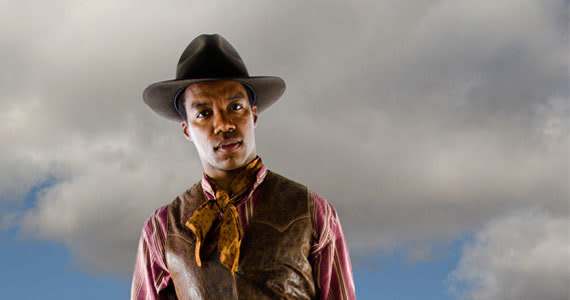 It's been just over a month since Portland Mercury's review of Portland Center Stage's all-black Oklahoma! sent the winds of critical discussion sweeping down the plane. Noah Dunham contended that with an all-black* cast, it would have been more historically appropriate to see Jim Crow-era discrimination play out onstage. The lack of racial tension, Dunham claimed, caused PCS to miss its presumed target of "a new Oklahoma!."
The play's lead actor, Rodney Hicks, rebutted Dunham on the PCS blog. He justified the play's historical premise by pointing out that a few all-black cowboy communities flourished at the turn of the century without too much outside intrusion. He also added that as a black actor, he relished the opportunity to play a role that wasn't specifically written for his race and simply portrayed "who we all are as Americans."
On behalf of Portland Monthly, I shared the following thoughts with the PCS messageboard :
It's a relief when black actors are afforded the chance to portray the normal gamut of universal human emotion, outside the context of a struggle against racially-motivated oppression. While hammering away at that topic has brought gradual enlightenment, empathy and change, it's also created an unfortunate Pavlovian reaction in many theater audiences: See a black person, brace yourself for racially charged themes. I admit I had that response myself a few months ago, when I caught Broadway's Mary Poppins, complete with a [newly added] black villain that Ms. Poppins locks in a cage. When a period drama features mixed ethnicities, you naturally weigh the action against your perception of the race/class issues of that time and place. So in that context, the actor's race "stuck out" to me, and the implications of empire and exploitation bothered me. Similarly if Oklahoma were a mixed-race production, audiences should be put on guard for era-appropriate Southern tension. But this production sounds like a good chance for audiences to shrug off their preconceptions and embrace the obvious: Black actors are just actors. Black people are just people. Why SHOULD a black Oklahoma be "a new Oklahoma!?" No good reason.
Interestingly enough, amid this dustbowl of discourse, Portland Playhouse debuted its own all-black* production, August Wilson's Gem of the Ocean , which reinforced the aforementioned audience tendency to equate black acting with the portrayal of the African American struggle. As slavery and racial persecution colored every line of dialogue, a couple of the cast members visibly suppressed their sophisticated modern style under a hangdog mantle of "slave" mannerism. They carried it off, no doubt moving their audience to a better understanding of a torrid time—but they also labored under the burden of black history throughout, and it's easy to see why a talented performer wouldn't want to be saddled with that responsibility every time.
Acting is one of the only professions where demographic discrimination is considered an acceptable occupational hazard. You simply can't get the role, if you look wrong for the part. And all too often, race has been considered a casting deal-breaker, causing black actors to joke about resumés rife with criminal and slave roles. The recent production of Oklahoma! gave some great actors (singers/dancers…in Broadway parlance, "triple threats") an all-too-rare chance to shine without enslavement to a heavy political subtext. What a beautiful morning.
That said, the fact that this discussion has (ahem) overshadowed appreciation for Oklahoma! 's production values and individual performances, suggests that Portland isn't yet as progressive as we pretend.
*Each production included one non-black actor.
For more about Portland arts events, visit PoMo's Arts & Entertainment Calendar, stream content with an RSS feed, or sign up for our weekly On The Town Newsletter!