elf actualized
Review: The Santaland Diaries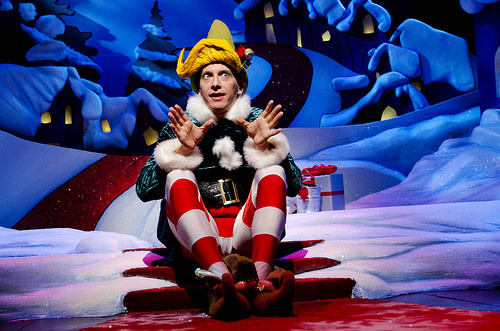 You've got to hand it to Portland Center Stage for pairing childish memoir A Christmas Story with David Sedaris's jaded rant The Santaland Diaries . Where the former is extravagant and optimistic, the latter is sparse and sardonic, giving the PCS winter program a nice balance, like bitter black coffee with fluffy tiramisu.
In Christmas content, nostalgia looms large, and audiences tend to prefer ritual predictability to surprise. An "ain't broke, don't fix" spirit doubtless led PCS to stage Story as a faithful scene-by-scene re-creation of the 1983 movie, from costumes to cars. In the same vein, the company seemed primed to sign over Santaland's sole role of Crumpet the Macy's Christmas Elf to the charming Wade McCollum in perpetuity. Alas, after a couple seasons of showing up with bells on, the Cabaret and Hedwig vet couldn't resist the siren song of Portland Playhouse's Angels In America . (Don't fret, Portland. We're not losing an elf; we're gaining a gay!)
Into the curl-toed slippers steps Jim Lichtscheidl, whose credits include Coen Brothers film A Serious Man, and whose overall bearing maintains that title. Throughout his various impressions of addled Santa-seekers and manic Macy's staffers, Jim maintains a sense of the narrator's detached judgmentalism. The audience experience is, therefore, fairly complex: even as we marvel at the secondary characters' quirkiness and naiveté, we perceive a steely glimmer of Sedaris's disapproval shining through the corner of Jim's eye.
Santaland isn't merely a Christmas tale, but a deep exploration of the customer-service dynamic, pitting the whimsy that we're sold (in this case, a snowy cotton wonderland peopled by magical elves) against the gears that grind behind the scenes (Breakroom, time card, vomit cleanup.) But while Sedaris is clearly tempted to demonize customers, he eventually reveals a philosophical twist: Cheerless providers are just as bad as thoughtless consumers; meanwhile, the real heroes are the believers on both sides.
"I'm not a good person," Crumpet summarizes after watching a particularly devoted mall Santa bring a family to wistful tears. This bittersweet confession is a classic trope in comedy because it more or less speaks to us all. And it fits a Christmas cynic like a pair of candycane-striped tights.
For more about Portland arts events, visit PoMo's Arts & Entertainment Calendar, stream content with an RSS feed, or sign up for our weekly On The Town Newsletter!