food fight
Review: Famished
A "theatrical documentary" about what we crave and the troubles we get into stuffing our mouths feeds both the belly laughs and the indigestion. Through Feb 5.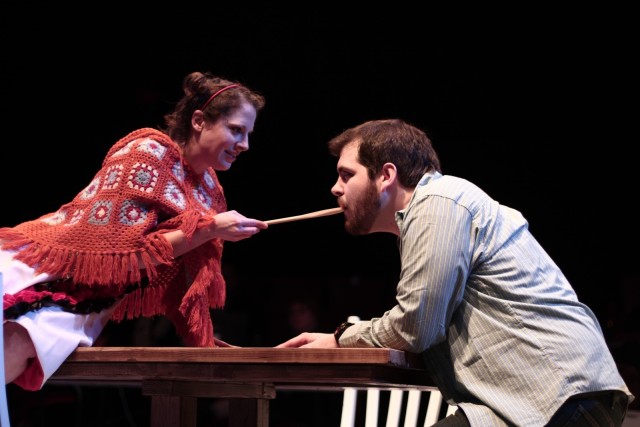 When you walk into Portland Playhouse's world premiere play Famished, you are given a card asking, "What are you really hungry for?" Tacos, sex, maybe a Pine State biscuit? Playwright Eugenia Woods and Portland Playhouse spent 18 months asking Portlanders such questions and digging into the myriad ways we go about satiating those hungers, be they physical, emotional, sexual, or spiritual. The resulting "theatrical documentary" is clever, well staged, and well acted, but nonetheless left me feeling somewhat overstuffed by the end.
Using themes from the interviews to craft its narrative, the production basically unloads an entire city's dump truck of food angst onto three generations of a single family, following them from the birth of the second generation to the death of the matriarch. Along the way, it explores the various roles hunger and food play over the course of a life, touching on some Lifetime-special usual suspects—anorexia, depression-fueled binging—while throwing in many newer, keeping'-it-local foodie dysfunctions, from the middle generation couple fighting over his desire for a burger and her insistence that he eats too high on the food chain for their relationship to be sustainable, to the older couple arguing over the wife's craving for processed sugar in defiance of her unprocessed, low-glycemic, whole foods cancer diet.
Developed through interactive performance installations at CoHo Theatre and Portland Center Stage, Woods's witty script makes jabs at everything from Michael Pollan to macrobiotics, and the actors each have their moments, particularly Sharonlee Mclean as the grandmother, who one minute goes on a hysterical diatribe against foodie fascism, and in the next tugs at the heartstrings as she lies in her hospital bed listing all the things she wants to eat before she goes. The staging by director Megan Kate Ward is equally sharp, alternating between a long alienating dinner table, a white step structure, and a kitchen set consisting of a large wall with fridge, stove, and shelves all painted white, where the panel above the stove opens to become a food cart.
But compared to Portland Playhouse's most recent production, Angels in America, where three hours flew by in seemingly half that time, Famished's two hours of nonstop fighting over food drags on. It might be different if it were done in the multi-voice style of The Vagina Monologues, but too stuff all of these documentary-style food burdens into the narrative of a single family, where almost every scene revolves around some new food-based conflict, gets exhausting. The joys of food seem far overpowered by the pathologies, which focus primarily on foodstuff white people fret about (it was, after all, created from interviews conducted at places like food cart pods)—although the satirically self-reflective script is at least aware of this, pointing out at one point that diets are a privilege.
If you can't get enough talk about food and enjoy watching Portland's food fads skewered, you'll likely find Famished entertaining. But at least for me, it's two hours ultimately felt too literal and heavy-handed, like a chef who over seasons a stew for fear that you won't get the flavors, when in fact they might taste better if they were allowed to simmer below the surface.

Famished – Trailer from Softbox on Vimeo.
For more about Portland arts events, visit PoMo's Arts & Entertainment Calendar, stream content with an RSS feed, or sign up for our weekly On The Town Newsletter!