red-alert state
Review: The North Plan
Portland Center Stage's uproarious new comedy speculates on how a national crisis might redraw party lines.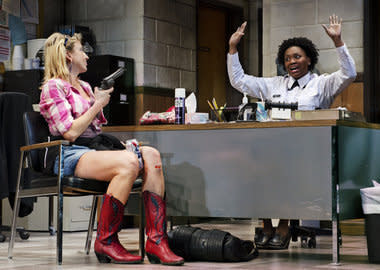 In an all-too-plausible dystopian future, the US government has gone into "red alert." As Facebook, Twitter, and online bank accounts flicker and founder, high-ranking government agents use the chaos to cloak a coup, targeting and detaining civilians as part of a master plan called Readiness Exercise 1984, penned by one (naive, heroic or Machiavellian?) Ollie North. (Famously testifying in '87 that he thought Reagan's Iran-Contra scheme was "a neat idea," has also apparently hypothesized that mass incarceration of America's peaceful political dissidents might be neat.)
Playwright Jason Wells wisely contains the hypothetical national conflict in a microcosm, a police precinct in small-town Missouri with two temporary prisoners: loudmouthed redneck gal Tanya Shepke (Kate Eastwood Norris) who's being locked up for DUI, and neurotic Jewish gay State Department worker Carlton Berg (Brian Patrick Monahan) who fears that he's about to be disappeared by G-men for his attempt at whistle-blowing. While their two guards try to remain stoically impartial, it's obvious where their differing allegiances lie. A part-time law student, police clerk Shonda's (Ashley Everage) conscience is pricked by Carlton's plight, but her boss, good ol' boy police chief Swenson (Tim True) makes it clear that he implicitly trusts the governmental chain of command, and doesn't cotton to Carlton's kind.
The dialogue that ensues is nothing short of uproarious. Tanya's pottymouthed exclamations seem plucked from a particularly countrified episode of Cops, while Carlton's nervous urgency and straight-man stance are classic (if not clichéd) Jewish comedy tropes. Even as the severity of Carlton's—and the nation's—circumstance gradually dawns on the other characters, Tanya's self-indulgent antics continue to rack the audience with irrepressible fits of laughter. There's a strong sense that we're all complicit in cognitive dissonance, laughing while the world might very well be ending. As director Rose Riordan puts it, we're "trying to do the right thing when no one knows what the right thing is."
Upon the arrival of two Department of Homeland Security agents, the plot, as they say, thickens. "It's a new world, Pal—one without consequences for us," declares titanium-jawed Homeland henchman Dale Pittman (Frederic Lehne) to his lighter-loafered partner Bob (Blake DeLong) while calmly tasering Carlton in the balls—but he's mistaken. Showing how swiftly totalitarian tactics galvanize resistance, Wells suddenly redraws his characters' party lines, pitting power-mongers against freedom-lovers regardless of their prior political or aesthetic leanings. Suddenly sympathizing with his prisoner, an indignant Swenson threatens: "I can call some dumb crazy redneck friends of mine…tell them there's a couple of bureaucrats from Washington here to take their guns away…." These fighting words kickstart a darkly comic showdown that spills blue and red blood on both sides.
Philosophically akin to last October's The Pain and the Itch and The Real Americans, and funnier than both of them combined, The North Plan ultimately unites its audience behind an unlikely hero: the blonde broad with the big guns.
For more about Portland arts events, visit PoMo's Arts & Entertainment Calendar, stream content with an RSS feed, or sign up for our weekly On The Town Newsletter!