green zone
Peter Halley's Neon Installation Will Tickle Your Brain
At Disjecta through Feb. 25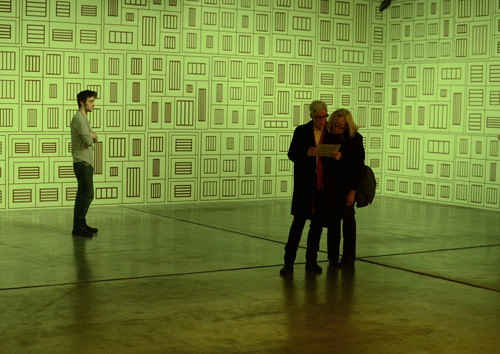 The geometric cells and conduits of Peter Halley's installation, "Prison," at Disjecta buzz with a seeming kinetic energy. Covering the walls of the 3000 square foot gallery and glowing green from neon paint and stage lighting, the layered boxes with their tight parallel lines play with the eye, shimmering and shifting, coming in and out of focus. Though it's only a laser print on wallpaper, there is an incredible sense of depth that's constantly oscillating and that, combined with the rushing sound of the forced air system, creates a perpetual sense of motion no matter where you stand.
Given the way the installation toys with perception, I had to ask Halley if our deepening understanding of how the brain processes images plays any role in his work. "I have always been interested in the psychology of perception and new developments in the understanding of the neurobiology of the brain," said the New York-based painter, printmaker, and writer. "At Disjecta, the perceptual ideas are pretty straightforward. The prison images slowly get larger as they go from the side walls to the middle wall—creating a perspective effect and making the room seem even bigger than it is."
With solo shows at the likes of MOMA and work in the collections of museums such as the Tate, Whitney, and Guggenheim, Halley is an impressive close to Disjecta's already impressive 2011-2012 Curator-in-Residence season. "Prison" is a continuation of his exploration of visual and architectural systems—this time wedding "geometry of the social" with "the mall-level transcendence of saturated fluorescent color." It's his first solo installation in the Northwest and one of his grandest anywhere. Make sure to catch it before it closes on Feb. 25.
For more about Portland arts events, visit PoMo's Arts & Entertainment Calendar, stream content with an RSS feed, or sign up for our weekly On The Town Newsletter!