Now Read This
Glamour in Glass
Magic meets Jane Austen in a new novel by award-winning fantasy author Mary Robinette Kowal—reviewed by award-winning fantasy author Jay Lake!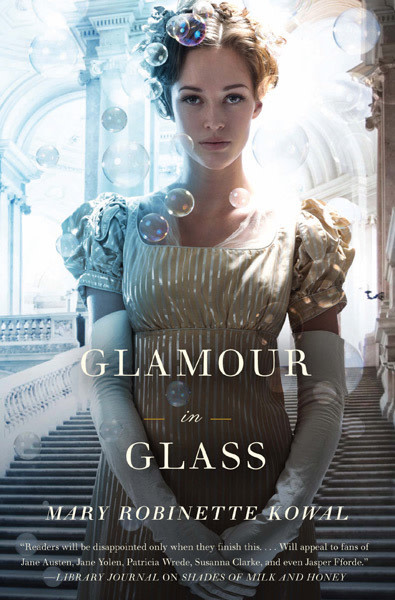 FEMALE EMPOWERMENT is a difficult enough subject to tackle in the context of Regency England, but add in the Napoleonic Wars and a level of magical realism, and you have the setting for an epic Jane Austen could hardly have imagined.
Glamour in Glass begins with a dinner party among London's upper crust, where a simple act of glamour—in this alternate reality, a magical form used primarily among the wealthy for artistic purposes—goes wrong. A piece of décor wrought for the Prince Regent accidentally comes unraveled during the glamour's unveiling, setting the stage for a cavalcade of exposed secrets and identities. Set against the backdrop of Napoleon's escape from Elba and march on Paris, the story is transformed from a period romance to a tale of action, espionage, and feminine independence.
A sequel to her widely acclaimed Shades of Milk and Honey, this historical fantasy from Portland author Mary Robinette Kowal—winner of science fiction's John W. Campbell Award for Best New Writer in 2008—continues her loving homage to Austen while carrying the story into more adventurous territory.
Much like Austen's heroines, the novel's protagonist, Jane Vincent, must conform to her era's narrow expectations of women. But passive she is not. Like her husband, she is a glamourist. Pregnant, forbidden from her work for the sake of the child to be, she struggles to respect her husband's hidden past despite being tempted by the trappings of a now-renounced aristocratic origin. After he is captured and imprisoned by Napoleon, who is hoping to bend their enchantments to his own military aims, Jane proves herself steely and clever in her quest to rescue him.
In keeping with Kowal's literary wellsprings, the language of the times is used with exquisite care, making few concessions to modern readers. Even the ahistorical vocabulary of the magical elements feels appropriate. The result is prose both charming and challenging—including one of the most tastefully written sex scenes in modern literature—serving to keep the reader firmly anchored in Regency England despite the fantastical plotline.
Glamour in Glass tells of one woman's heroic strength in deploying both acts of glamour and sharp intelligence in the rescue of her husband. Jane pays a bitter price in the end, but wins back her love and proves her power. Presented in a successful fusion of magical realism, Regency romance, and wartime adventure, the story is rendered with elegant precision by Kowal's literary artistry.