Culturephile
Lost in Space
Novelist Jon Raymond finds solace in journeys gone astray.
PREDAWN RAIN drizzles onto the windshield of an overpacked Toyota Camry. Its two occupants—Amy and Damon, refugees from the Los Angeles grind—scour the outskirts of Portland in search of an organic yogurt manufacturer called Rain Dragon, the linchpin in their plan to start a more meaningful life in the Pacific Northwest. They wander down dead-end country roads, looking to owls and passing stoplights as signifiers of their fate. The time is fast approaching when someone will have to utter the word "lost."
If this opening scene of the novel Rain Dragon were notes in a melody—a trip, undertaken in a spirit of optimism, sullied by a sense of impending doom—dedicated readers of Northwest fiction might quickly recognize the composer, author Jon Raymond. Over the course of three books—The Half-Life, Livability, and now Rain Dragon—he has sketched a defining testament to the Pacific Northwest's cultural growing pains, often framing his tales within a journey gone bust. The exacting attention he pays to his characters and their surroundings has garnered him cross-country praise, from the Los Angeles Times to the New York Review of Books. But his particular talent for portraying the travails of the Pacific Northwest may owe to the fact that he, like so many of his characters, didn't choose Portland as a home so much as he got stuck.
"My family moved [to Portland] in 1979 because my dad got a job with a solar energy company," says the 40-year-old Raymond. "The next year Reagan came in, and all the funding for any kind of alternative energy suddenly evaporated. In a sense we were sort of stranded here."
When I meet with Raymond at the Kenton Club, a bar not far from the North Portland home where he's lived since 2005, he approaches the folksy watering hole with an air of detached amusement. He offers a quip about the place's "magnificent griminess" and notes in wry monotone the band gearing up to perform. I'm surprised when, as we make our way toward the back in search of a quieter spot, he enthusiastically points out a poster for the 1972 Raquel Welch vehicle Kansas City Bomber, an almost undetectable constituent of the Kenton Club's decorative flotsam.
"A lot of that movie was filmed in this bar," Raymond offers by way of explanation. "It's sort of the Kenton Club's big claim to fame."
Though couched in a veneer of nonchalance, it's this sort of scrutiny that betrays Raymond's affection for his hometown. It's one of the many qualities that make him a Portlander, a geographic affiliation perhaps most readily apparent in his dress. Raymond sports the city's favorite sartorial motifs—flannel overshirts, jeans, worn sneakers, messy hair—with such rigid consistency that when he fielded an Emmy nomination last year for his screenplay to the HBO miniseries Mildred Pierce, colleagues anxiously awaited the chance to see him sporting a suit.
"There's an aspect to [Raymond's] work which is extremely attentive to regional specificity," says filmmaker Todd Haynes, a friend who has collaborated with Raymond on Pierce as well as on a yet unnamed project that deals in the world of the conservative media machine. "He is sort of in tune with the landscape and the entire psychic character of the West in general."
Raymond's serpentine navigation of the area's cultural life began upon his return from Swarthmore College in the 1990s. Since then, his CV has stretched to include everything from coediting the design and culture showcase Plazm magazine to working as an assistant editor for Tin House magazine to self-publishing a cheeky collection of intellectually divergent essays (all of which were penned by Raymond himself) that analyzed the works of a fictional artist named Slats Grobnik.
"I don't think I've ever met a creative person who is sort of so intuitively open to interesting art across all genres," says Rob Spillman, editor of Tin House. "He's just generally excited about anything creative."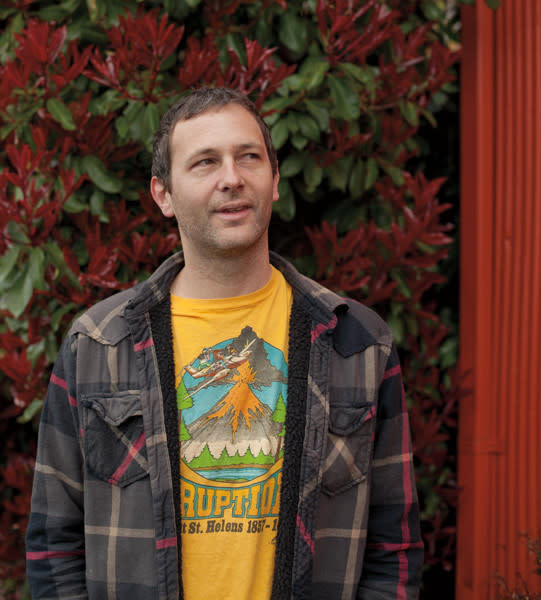 This enthusiasm found its ultimate outlet in Raymond's literary works. The Half-Life, published in 2004, tells the intertwining tales of a fur trapper in the 1820s and a pair of teenage girls as they attempt to make an independent film in 1980s Portland. Livability, which won the Oregon Book Awards' Ken Kesey Award for Fiction in 2009, contains nine short stories that investigate the lives of Portlanders as various as a wealthy Lake Oswego resident souring on his louche luxuries and a teenage immigrant navigating the uncertainties of retail capitalism and high school's sexual pecking order.
One of Livability's stories, "Old Joy," became the treatment for the first of three collaborations between Raymond and the filmmaker Kelly Reichardt. The two adapted another of Livability's stories into 2008's critically lauded Wendy and Lucy. In 2010, the duo collaborated on their highest-profile outing—Meek's Cutoff. Directed by Reichardt from an original script of Raymond's, the film describes yet another journey gone wrong: a group of settlers on the Oregon Trail led into increasingly desperate straits by their suspicious guide.
With the exception of the 1930s melodrama Mildred Pierce (an adaptation of a James M. Cain novel set in Los Angeles), Raymond's work as a screenwriter has hewed close to the model cast by his fiction: patient, unsentimental, and enamored with the curious history of the Pacific Northwest. Apart from obvious antecedents like Ken Kesey and H. L. Davis, Raymond cites the American arch-regionalist Sherwood Anderson as inspiration for his trademark combination of lyrical empathy and biting observation.
"I sort of consciously set out at an early time to pursue a regionalist mentality," says Raymond. "I was attracted to the old-fashionedness of it and the obscurity of it in a certain sense."
Over the past nine years, Raymond has poured this talent for observation into relentlessly polishing the novel Rain Dragon. Damon Duncan, the protagonist, narrates with an abundant intellect undirected by the pressures of ambition. An advertising industry refugee, he is escaping Southern California with his girlfriend, Amy, to work for the yogurt company Rain Dragon. As the two fall under the sway of Peter Hawk, the company's charismatic founder, both the shaky foundations of their relationship and their belief in the healing potential of physical labor begin to crumble.
In one of the narrative's myriad dry ironies, Damon winds up applying the same tried-and-true PR tactics of his working life in LA to marketing organic yogurt. The success of this venture inspires Hawk to task Damon with developing a consulting business to train corporate workforces in Rain Dragon–style holistic management techniques. Damon's discomfort mounts as his new job of selling sneakers and seducing lumber executives with notions of "meaning" begins to look ever more like his old life.
Damon and Amy stumble across moments of self-realization, but these end up damaging the pair, rather than affirming their power to change. As with many of Raymond's works, Rain Dragon denies its characters their ambitions, offering them only the grace of the friendships that punctuate their journeys.
"I depend greatly on the experience of my friends and family to write," says Raymond. "To me, part of the goal of writing is to bear witness to your friends' and families' lives, and if those struggles are the kind of information you're getting, that's what winds up in your work."