Now Read This
Book Review: Days of Destruction, Days of Revolt
By Chris Hedges and Joe Sacco [Nation Books]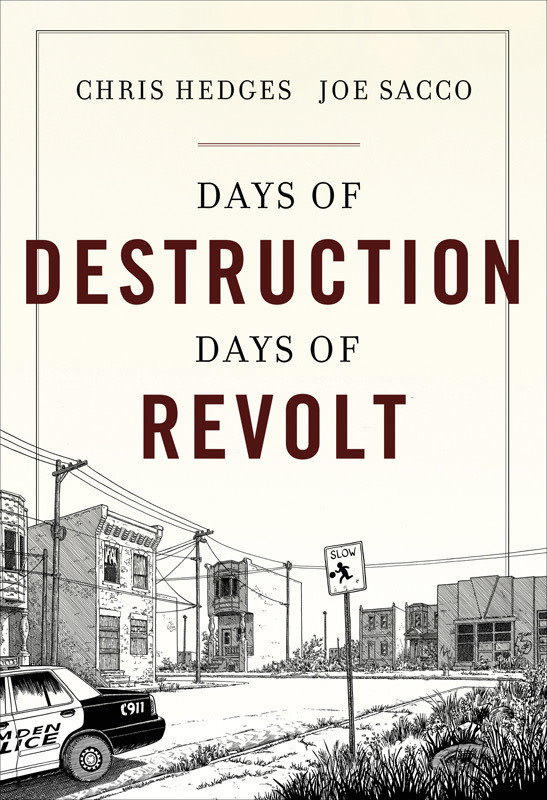 DAYS OF DESTRUCTION, Days of Revolt is a homecoming for its decorated authors. Portland-based cartoonist Joe Sacco has won numerous awards reporting the stories of war-torn people, from Palestinians to Bosnians, as graphic novels, while war correspondent Chris Hedges spent nearly 20 years in the Middle East, Africa, and the Balkans, earning a Pulitzer for his work at the New York Times. But with this unique collaboration of Sacco's pen and Hedges's keyboard, the two turn their gaze to the plight of four very different American towns whose citizens' lives have been destroyed by the unchecked depredations of big business: Pine Ridge, South Dakota; Camden, New Jersey; Welch, West Virginia; and Immokalee, Florida.
The investigative collaboration of a prose writer and a visual journalist recalls a much older partnership: James Agee and Walker Evans's famous book documenting three Alabama sharecropper families in the 1930s, Let Us Now Praise Famous Men. In place of Evans's stark photographs, we get Sacco's sharply observed pen-and-ink sketches—it takes a moment to notice, for instance, that the tourists he draws at Mount Rushmore are all looking at it through cell phone cameras—and comics sequences based on interviewees' personal recollections. It's a method Sacco used to tremendous effect in his 2011 Oregon Book Award–winning Footnotes in Gaza. In place of Agee's cartwheeling prose and catalogs of his subjects' possessions, we get Hedges's furious descriptions of the cruelties of contemporary poverty, and litanies of historical socioeconomic statistics.
"Americans don't look at us as human beings. They look at us as tools for work." P. 217
Hedges is a big-picture journalist, but his most effective reporting here focuses on details. When he's describing the horrifying day-to-day existence of farmworkers in Immokalee, or naming names about who's responsible for the disastrous collapse of Camden, Days of Destruction is a riveting indictment of America's failures. But when he shifts into grandly indignant rhetoric—comparing coal excavation in West Virginia to "the pillaging of natural resources in the ancient Mesopotamian, Roman, and Mayan empires," for instance—he undermines his own arguments.
The most striking passages of Days of Destruction are Sacco's brief, graphic oral histories, where he illustrates people's stories through unshakable drawings of things that can't be photographed anymore. You don't need to read Hedges's comparisons to Versailles and Easter Island to grasp the suffering of America's betrayed poor; you just need to see how they remember their experiences.
---
Hedges and Sacco will present Days of Destruction at Powell's City of Books on June 25 at 7:30.
---