separating the men from the boys
Review: 4 Men Only
At Conduit Dance Studio March 2–3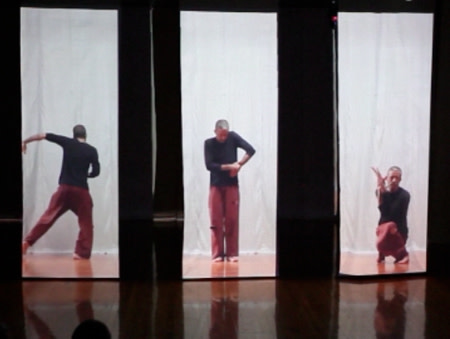 4 Men Only, a showcase of four solos by four male choreographers at Conduit, began as a phone call from the New York dancer Bob Eisen. He was coming through town and wanted to perform; was anything happening? So was born a rough but rewarding night of dance that is perhaps better thought of as a workshop bringing together four choreographers who share more than just their gender.
The first half of the night—featuring first Gregg Bielemeier, a long-time Portland dancer and a founder of Conduit, followed by Eisen, a similarly prominent Chicago and now New York dancer and co-founder of the performance/workspace Links Hall Studio—was the rougher half. Both men's performances dealt with their advancing age. Bielemeier paid a tongue-in-cheek, old queen tribute to Joni Mitchell before transitioning into a somewhat confounding, lip-synching, drag performance to the rebellious teen metal of Khz's "Let It Go," which embodied all the awkwardness of watching your gay uncle do drag at a family reunion. Eisen went through a somewhat traditional contemporary dance to a Lou Reed/Metallica collaboration, but roughed up the edges, like holding a deep lunge until his body shook. The whole time his gaunt face contorted gruesomely to the song with the expressiveness of a claymation parody of an old man.
Both spoke to the struggle an aging body poses in a profession dependent on physical vigor and acuity—a rich question, indeed, although both felt rather long and underthought. Ironically, both men also literally had trouble with when and how to exit the stage, though I'm guessing it was more a production kink than a deeper metaphor.
Whereas the first half lingered on age, the second and more successful half probed love. Meshi Chavez, in white pants and a dusting of baby powder, continues to develop as a Butoh performer. His slow, minimalist performance, consisting mostly of minor movements of the arms and face, seemed pulled from him by some grander exterior force that locked our focus just as it coaxed him across the stage. Most captivating was his face, which possessed a certain newborn quality, expressing a deeply existential yet indeterminate intensity that bordered pain, wonder, and intensity—fitting for what was ultimately a love poem titled "Une fleur pour mon amour."
Then Greg Sax turned the night on its head with an athletic, multimedia performance titled "what is not still…?" that played with the scripts we read during the early stages of a relationship. Diving onto stage, he proceeded to intermix highly physical dance with dialogue that progressed through the stages of flirtation with an offstage interest: "Hi!", "What kind of music do you like?", "Is this working for you?", "I just want you to be happy." At each stage, the music shifted and he unrolled a narrow screen from the ceiling upon which an image of himself dancing was projected, until the real Sax was dancing with three projected Saxes to a mashup of three Gillian Welch songs—the real Sax in a state of romantic befuddlement, saying, "I think I see you. And I like it. I think." Though still bumpy, the piece was conceptually and visually rich and has great potential.
For more about Portland arts, visit PoMo's Arts & Entertainment Calendar, stream content with an RSS feed, or sign up for our weekly On The Town Newsletter!