Indie
Portland Indie Wine Festival this Weekend
Why you should visit one of Portland's most exciting wine events, and why I'm biased.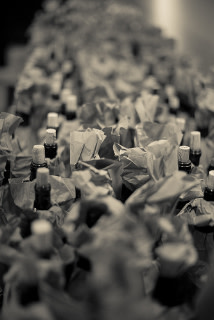 GQ said it best. "You can't throw an heirloom radish in the Rose City these days without hitting an artisanal producer of one kind or another." That's especially true this weekend as backers of the Portland Indie Wine Festival will be gathering 40 of Oregon's top artisan winemakers for the fifth annual event this Saturday at the Portland Wine Project, an urban winemaking facility shared by stalwart producers Grochau Cellars and Boedecker Cellars.
On Saturday afternoon from two to six, 75 bucks gets you face time with all 40 winemakers on-site pouring their own wines, to be paired with small plates from top Oregon restaurants like Ten 01, Biwa, Wildwood, Country Cat, Marche and more.
For the sake of full disclosure, I worked with Indie founder Lisa Donoughe in 2008 as the festival's executive director. Though I no longer have any official connection to the festival what-so-ever, I remain an avid fan. Indie marries the casual informality of a weekend farmers market with the sophistication of artisan food and wine events. It's quintessentially Portland, it's a ton of work, and its one of the first opportunities to sample the 2007 offerings.
It's also the only wine festival in Oregon where admissions are blind-tasted and judged by a panel of experts: journalists, winemakers, wine buyers, and others in the trade. To even be considered, the winery must yield a small production of 2,000 cases or less annually (Hence, "Indie"). Best of all, all proceeds benefit the Indie Wine Foundation, a non-profit organization dedicated to burgeoning Oregon vintners. It's a delicious way to spend an afternoon.
Learn more here.