Bloody
Clyde Common's Bacon N' Eggs Bloody Mary
Everything you'll ever need for a hangover… ever.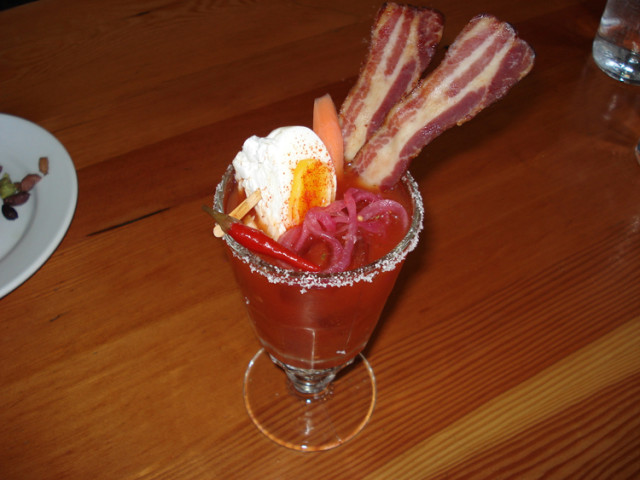 For a guy who claims to abhor superlatives, I find myself using the word "best" far more than I'd like to admit. Sometimes I use it to make a point. Sometimes, I actually mean it. After trying the Bacon N' Eggs Bloody Mary ($8) at Clyde Common today, I'm being 100 percent sincere when I say this is the best Bloody Mary in town for two selfish reasons. One, it's a damn good Bloody Mary. Two, it's a damn good Bloody finished with taut slices of cold bacon and one egg—poached softly. This creation, which from what I gather is the creation of Clyde's daytime bartender "Johnny," is worthy of a Nobel prize.
After all, it's often said that the ultimate cure for a hangover is bacon and eggs and a Bloody Mary. Well, here they all are together in one attractive salt-rimmed, lime-wedged, spicy little package. True, the bacon is served cold, but the acidity of the drink cuts right through the chilled bacon fat, rendering its texture to something that slightly resembles lardo. I'm not kidding.
Too bad Clyde Common isn't open during the day on Saturday when most of us could use it most.