CHEF RECIPES
Clyde Common's Tomato Love
Chef Chris DiMinno shares his favorite summer recipe, tomato salad with pine nuts and herbs, to make the most of the tomato bounty that is finally here.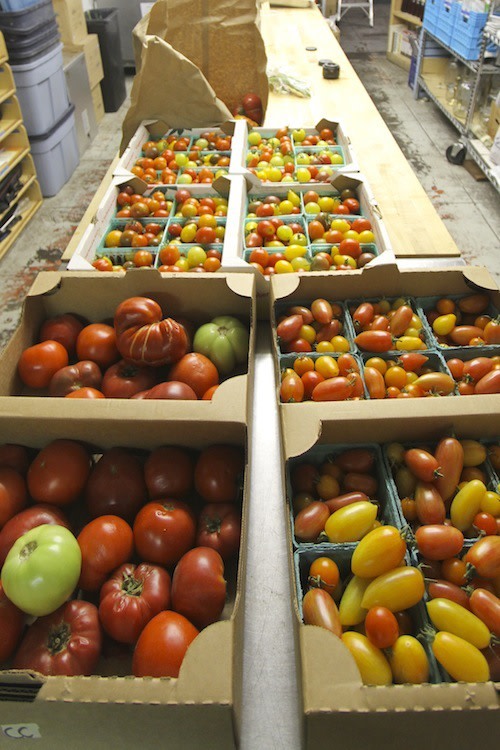 Chris DiMinno loves tomatoes. In all likelihood, you love tomatoes. So what's the difference between you and Chef DiMinno? He's going to go through all of
tomatoes in just two days (with the help of the hungry mouths dining at Clyde Common). He's snagged heirlooms of all colors, shapes, and sizes and isn't going to rest until we all have tomatoes coming out of our ears (aka, Fall).
DiMinno is unveiling the new summer menu at the hot Downtown restaurant next to the Ace Hotel, and it's loaded with fresh tomato goodness. In his signature style, DiMinno is mixing up hot and cold, fried and fresh, international and local with a new line-up of summer dishes sure to satisfy. The tomato onslaught took a bit longer to hit this summer, but now that it's here, it's best not to waste any of the precious tomato season with tomato-free meals at the restaurant or at home.
At Clyde Common, tuck into a signature marinated tomato, grilled peach, and apricot salad ($10) or enjoy fluke crudo and fried green tomato with Japanese radish ($12). At home, indulge in a fresh tomato salad using as many different colored tomatoes as you can find at the farmers market or local supermarket. Here, the tomato-crazy chef shares his recipe and tips for maximizing the flavor of la pomme d'amour.
Clyde Common 1014 SW Stark St; (503) 228-3333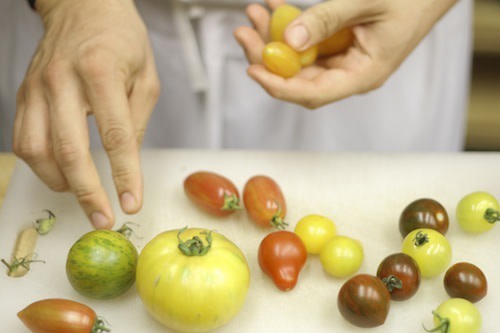 Clyde Common sources their summer tomato bounty from several farms, depending on the week's availability at the Farmers' Market. The restaurant's current haul (of over 40 types of tomatoes) includes beauties from Creative Growers, Cascade Organic, and Groundworks Organics.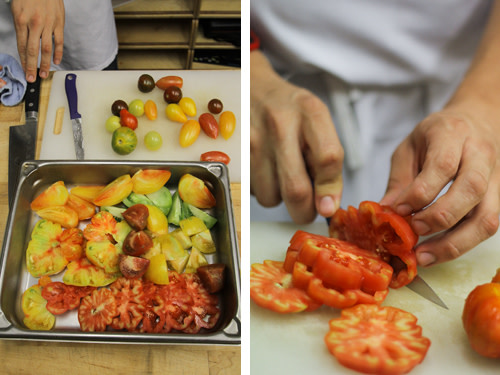 In order to show off each tomato's unique characteristics, each is sliced according to its size and shape. Smaller cherry and grape tomatoes are cut in half, medium torpedoes and smooth varieties are sliced in quarters, and big, gnarly heirlooms are sliced horizontally to show off each of their lovely bumps and rumples.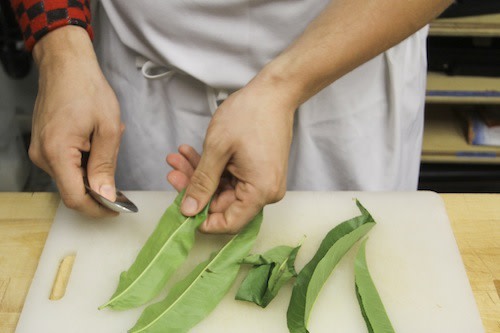 Chef DiMinno's not-so-secret ingredient? Peach leaves from Viridian Farms, which give a marzipan-scented sweetness to the best of the season's eatings. Just bruise these guys up a bit with the back of a spoon and crumple them with your hands to release their nutty, sweet oils.
Toss like a pro—it's all in the wrist. Smaller varieties like these can be tossed in a bowl, but larger tomatoes are more prone to falling apart (especially after they're salted) and should be handled gently.
When choosing basil, try to find the smallest, youngest leaves. Older leaves will be spicier and have a licorice flavor, but younger leaves impart and brighter, floral note and won't compete with the tomatoes.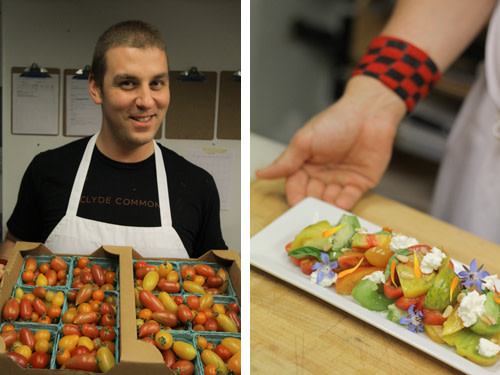 With this recipe, you'll surely be smiling all summer long. Chef DiMinno tops his salad with tiny edible flowers, adding even more colors to an already brilliant dish. You can find many edible flowers at the farmers market and local supermarkets, or try your hand at growing your own.
Clyde Common Tomato Salad with Pine nuts and Herbs
From Chef Chris DiMinno, Clyde Common
Serves 2
2 to 3 medium, ripe, beautiful tomatoes, cored and cut into thick slices or wedges, depending on the shape of the tomato
2 to 3 fresh peach leaves, torn into a few pieces (optional, available from Viridian Farms at the Portland Farmers' Market)
Kosher salt
2 Tablespoons extra-virgin olive oil
1 Tablespoon white balsamic vinegar
1/2 teaspoon sugar
1/2 bunch thyme, smashed
3 or 4 fresh mint leaves, cut into thin ribbons
3 or 4 fresh basil leaves, cut into thin ribbons
1 tablespoon lightly toasted pine nuts
1 pinch fresh parsley leaves, whole
2 oz crumbled chevre of soft sheeps' cheese
Put the tomatoes and peach leaves in a shallow bowl, sprinkle lightly with salt, and leave to macerate about 30 minutes, so the tomatoes give off some juice and the peach-leaf flavor permeates them.
Pour the tomato juices into a small bowl, add the vinegar, sugar, thyme, more salt to taste, and whisk to blend. Slowly whisk in the oil until you have a nice vinaigrette; taste and adjust the seasoning.
Pick the peach leaves off the tomatoes, and discard or compost them. Add the mint, basil, and dressing, and then very gently toss to distribute everything. Arrange the tomatoes on two plates, alternating colors and textures. Scatter the herbs, pine nuts, and cheese over the salad and serve right away.