Pour
Taster's Choice
Billy Wilson's Barista gives Portlanders what they want—more coffee.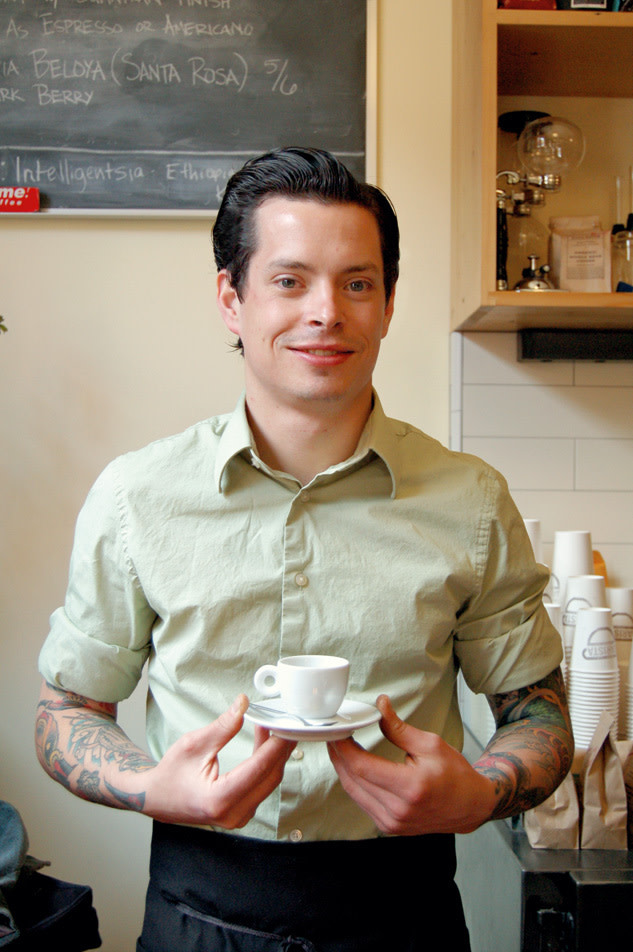 The next incarnation of the Portland coffee shop was determined by a text message. Billy Wilson, a two-time Northwest Regional Barista champ, was formulating the concept for his new café, Barista, when he got a message from Duane Sorenson, his mentor, former employer, and the owner of Stumptown Coffee Roasters. Sorenson asked if Wilson was planning to serve Stumptown coffee in his shop. "Yeah, I'm using your coffee'" Wilson replied, "but I'm going to use other [coffees], too." It was a bold response to send to Portland's premier microroaster, who has rarely agreed to have his coffee brewed side by side with other brands. But since opening Barista in February, Wilson has broken with the exclusive arrangement long held between roasters and coffee houses: he offers coffee from Stumptown alongside beans from other top artisan brands, such as Intelligentsia, Verve, and Ecco Caffé.
Wilson's eyes widen when he talks about the others he could add to his lineup: Cherry Coffee Roasters, Counter Culture, and 49th Parallel Coffee Roasters. "This is a playground. It's a science lab'" says the tattooed twenty-nine-year-old as he sits outside his shop among the loading docks and boutiques of NW 13th Avenue, between Glisan and Hoyt Streets. "I've got plenty of equipment and plenty of grinders. Might as well try everything."
A chalkboard on Barista's exposed-brick wall lists three espressos du jour. A one-page paper menu keeps the drink selections simple: French-press coffee for $1.50; basic espresso drinks from $2.50 to $4.50; and vacuum-pot coffee from $8 to $10 per twelve-ounce cup. That's a staggering price for coffee, yes, but you're paying for a smooth, full-flavored brew—and for the accompanying show. The labor-intensive process demands five minutes of careful attention, giving your barista a chance to explain the origins and nuances of your chosen roast. Barista is the only shop in the city that offers coffee made with halogen vacuum pots, which cost several thousand dollars apiece and require costly cloth filters and high-quality beans.
"We don't approach coffee as snobs, but as craftsmen who want to share our passion'" Wilson says. And judging by Barista's steady clientele, Wilson's vision is catching on.