Charity Events
House Specials
Gourmet food raises funds.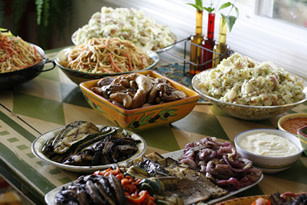 Those of us who live and die for a good meal, whether it's the cheapest cheeseburger in town or the priciest tapas and vino our Visa cards will allow, know how lucky we are to live in a city where edible innovation is not only cultivated but celebrated. What makes us even luckier is our collective devotion to the environment, our never-ending drive to be a more sustainable city, and our passion for charitable good works. And if you tend to spend the majority of your paychecks in local eateries anyway, why not satisfy your hunger pangs while also giving something back to your friends and neighbors in need?
Our House, an organization that provides housing and care services for people with advanced HIV/AIDS, has returned with its highly anticipated wine and dine series, Dinner at My House for Our House, beginning this summer and running until March 2010. Dinner at My House for Our House takes you to some of the most incredible locations in Oregon, boasts the culinary prowess of celebrity chefs, and features a full night of gourmet food, specialty cocktails, and a variety of entertainment.
While some events are designated as private dinners, where the host creates the guest list, most of the dinners are open to the public. It's not only a great way to meet fellow chowhounds, but also an opportunity to enjoy some of the most distinctive foodstuffs that Portland has to offer.
For around $100, you can have a memorable meal served by noteworthy chefs, such as Rick Widmayer from popular Southern eatery Screen Door; Naomi Pomeroy, the chef and mastermind behind Beast; Gabriel Rucker from Le Pigeon; and chefs from Clyde Common, Little T American Baker, and Castagna.
The locations aren't so bad, either. Interested in a sunset dinner at Portland's Japanese Gardens? How about a starlight dinner at Pomarius Nursery or an organic feast on a 40-acre organic farm? A Greek-themed feast beside a saltwater pool? A picnic at beautiful Cannon Beach?
Best of all, the proceeds from the dinner series go directly to Our House. There are currently over 60 dinners to choose from at different locales, each with its own themes, chefs, and menus. Dinner costs range from $50 to $150 per guest. —Keri Miller