Gruner
Chris Israel to Debut Restaurant
Israel to serve Central European fare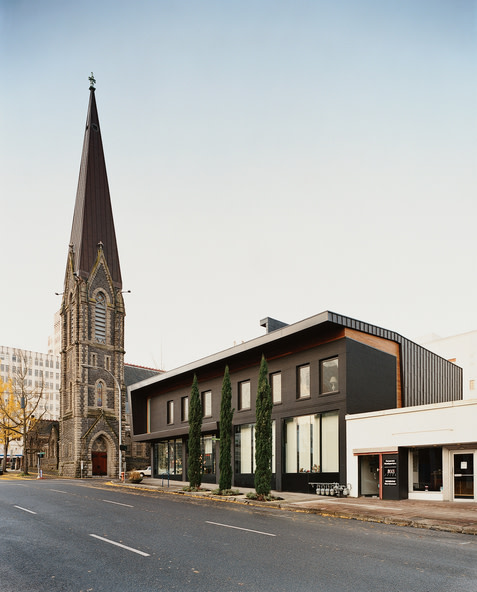 Jeff Kovel is a lucky man. Not only is he one of the city's more talented designers (Skylab Architecture), he's about to share an address with a Chris Israel eatery. Later this year, Israel and his business partner Kurt Huffman (a co-owner of Old Town's Ping) will debut Gruner, a Central and Eastern European eatery that will anchor a sweet corner spot in an award-winning Skylab-designed building that also houses the firm's headquarters on 12th Avenue and Alder Street.
I can't complain either. I live only six blocks away, and I expect to become a regular fixture at Gruner, Israel's first new Portland project since he debuted Saucebox with PDX restaurant mogul Bruce Carey back in 1995. Of course, Israel and Carey also co-owned the storied Zefiro, which is credited among the most seminal restaurants in the history of the city. Remember, Portland foodies refer to Portland dining in two stages: pre-Zefiro and post-Zefiro. Israel later left PDX to take a job in New York with Vanity Fair magazine. Carey closed Zefiro after a successful ten-year run to debut Bluehour, which serves my favorite gnocchi in Portland. With Israel back in Portland, Gruner's opening will be a big event in the story of PDX dining.
I had the opportunity to sample a few of Gruner's menu items back in May when Israel hosted a two-night dinner series at the Robert Reynolds Chef Studio. Along with wines picked by the masterful Dana Pickell of Triage wines (Dana worked with Chris at 23 Hoyt), the dinner included chicken paprikash, an excellent mushroom gratin with morels, and rhubarb cake for dessert. The majority of the wines were Austrian and German whites, along with anespecially memorable Tokaji, the Hungarian dessert wine. The food was incredible.
Note: I was involved in the real estate portion of this deal while employed with Urban Works Real Estate. I left the company in May.