restaurant guide
Behind the Scenes: Best Restaurants 2009
We wrote a restaurant guide, and you can too.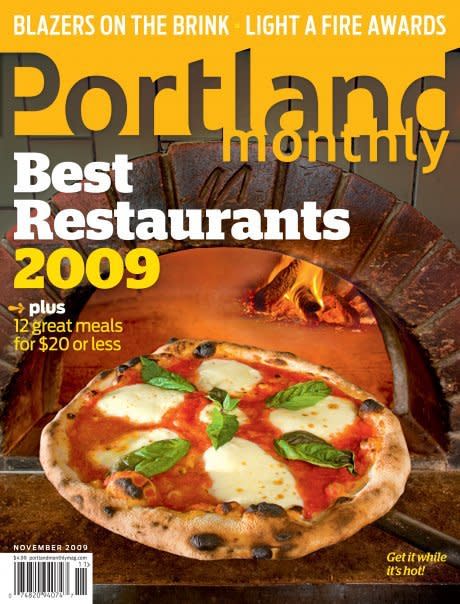 Eva Hagberg
When Mike and I started working on the restaurant guide, we essentially had what felt like the equivalent of two weeks to eat thirty-seven hundred meals. Not that we're complaining – there were some significant upsides, like Mike's killer knowledge of the scene, and my willingness to eat just about anything that's put in front of me, often twice. But I'll be honest: it was daunting.
So we divided things up. First, we came up a list of restaurants we'd heard of, and knew we had to at least check out. Then, we came up with a list of places that, while not a sure thing, we were pretty firmly convinced would make it onto our top ten. Then we ate. Then we argued. Then we argued with our editor. Then we argued a little more. Then we ate more and shared our plates and probably overshared our personal stories. We stopped into Park Kitchen, just to see if we should write about it somewhere, and ended up daring each other to lick the plates like we knew we wanted to. Mike went to Duh Kuh Bee and texted me about the "best noodles I've had in my life," while I dragged my New York friend Chani and my Portland friend Alia out to a Hillsboro library basement to try out this Japanese place we had heard all the chefs were talking about. It turned out to be Syun. It also turned out to be amazing.
There was the night that we had a full meal at Ping, jumped on our bikes, and headed out to 123rd and Powell for a second dinner at Lucky Strike. After which we tried the peanut butter and marionberry pies at Perry's. After which we wanted to die. And there was the food we had to eat to get us through the long dark nights of writing and re-writing: Cacao drinking chocolate for Mike, furtively ordered Snickers McFlurries for me. I dragged a new friend to Paley's Place, set up endless lunch dates for Clyde Common, stopped in and helped Naomi Pomeroy pick spearmint while asking her about her watercress soup. She made me try an un-shocked sprig, and then a shocked one. The difference was tangible, and it was a moment that made me realize how important having the restaurants here is.
Neither of us wanted to eat out for a good week—okay, maybe four days—after finishing the package. But we got a new respect for what the chefs are doing here. And for what weekly restaurant critics have to do to survive. Next up, we're thinking of putting together a couple of gym reviews.
Mike Thelin
I speak for myself when I say the passage to my heart takes a detour through the stomach organ, and on soggy Portland soil I know I'm not alone. More than Madrid, DC, San Francisco, or any other place I've lived, Portland loves food for all the right reasons, and you can find truly great food at almost any type venue—from strip mall to strip club. This the foremost reason I love Portland. This is also the reason I haven't seen my abs in years.
For nearly two months, Eva Hagberg and I comprised Portland's most prolifically hungry two-top. We stooped over plates of fresh pasta, devoured spheres of charred wood-fired pizza, amused over foie gras profiteroles, and scarfed pet-sized slices of peanut butter pie. We slurped noodles, savored pig parts, sent back salad and salt cod croquettes, and even licked a plate or two.
We visited every new high-profile restaurant (some twice), and we revisited our older favorites. We'd dine together and separately, maniacally calling, texting, and emailing to argue, share, pine, and pontificate. We'd stew over coffee and hot chocolate to debate. We met over lunch to talk about our dinner, and this only made things more complicated. As my own most memorable meal of the year was an eight dollar mélange of milk-braised pork, green tomato pickles, and aioli in hoagie form at Bunk Sandwiches, it became clear that food carts and sandwich shops could not be ignored in the most cash-strapped year in recent memory.
In the end, we came to a happy agreement after spending thousands on dinner and each of us probably gaining a few pounds. We think the final product is very reflective of the city we love. From the suburban noodle houses and true Japanese izakayas to the banh mi shops and Cantonese barbecue on 82nd Avenue, to the more traditional white tablecloth restaurants in Downtown Portland and the inner Avenues, we hope we nailed it.