Out and About
Leapin' Lizards
Dinosaurs see the future?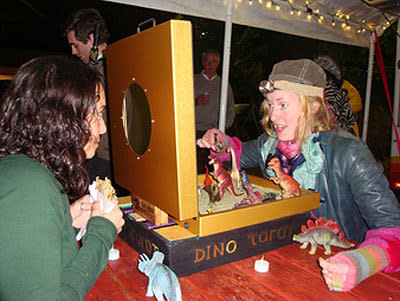 I wandered down to the food-cart enclave at SE 12th and Hawthorne last week and found my friend and former bandmate Anne Adams, who plays music around town as Grey Anne, sitting at a table in front of Whiffies fried pies. She had a spy light strapped to her head and was busy organizing a herd of colorful plastic dinosaurs in an ornate box labeled "Dino Tarot."
"It's not really fortune telling," she told me between customers. "It's more like a fun form of divination." For a modest fee, Anne will provide a reading about romance, career, or just general circumstances, using her cadre of rampaging reptiles to represent universal forces at work. "She's uncanny," said one patron. "The dinos know all," added another.
Anne told me she's at the Hawthorne carts most weekends, late, and that she does happy hour at Crush on Tuesdays, and Sundays at Three Friends Coffee and Pied Cow.
As mysterious as a crop circle she appears and draws a crowd. Sadly, I have an irrational fear of fortune tellers (I'm convinced that my future is as follows: "A piano will fall on you next week. Don't make any complicated plans.") so I didn't stay for a reading, but I wish someone had advised me not to eat an entire peanut butter and chocolate chip pie at Whiffies. It was hideously delicious and I lapsed into a calorie coma on the spot. And I'd do it again.