Gourmet
Gourmet Magazine to Close
New York Times blog reports Conde Nast will close flagship food magazine after 69 year run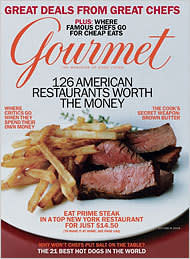 The New York Times Media Decoder blog reports that parent publishing company Conde Nast will close Gourmet Magazine, along with lesser known Conde Nast titles Cookie and Modern and Elegant Bride.
Put simply, this sucks. Not only is Gourmet probably the most recognized American food rag, it has shown Portland a lot of love over the years. Its October issue features PDX restaurants Le Pigeon and Pok Pok.
Allow a moment of silence for Ruth and company.