meatballs
Mama Mia turns five
Chef & Owner Lisa Schroeder will serve her Italian/American dishes, with love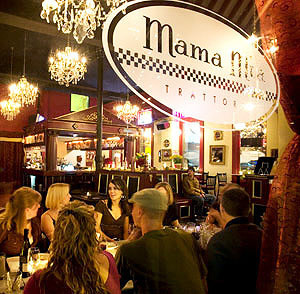 Lisa Schroeder (chef/owner of Mother's Bistro and Bar and Mama Mia Trattoria) has more than an oozing rectangle of lasagna on her plate. On top of running two Portland restaurants, she has just published her cookbook Mother's Best – Comfort Food That Takes You Home Again, landing her upcoming appearances on the Today Show, QVC and Martha Stewart's "Everyday Food" starting in mid-November.
Today, Lisa is celebrating the 5-year anniversary of Mama Mia Trattoria with nothing shy of a pants-popping American/Italian feast.
Just after noon, the white-clothed table is stacked with manicotti swimming in marinara and sealed with bubbling, homemade mozzarella, thin-crust margarita pizzas, and subs stuffed with meatballs the size of my fist. As soon as I pass around my crispy-crusted pie to share, a slice of Philly cheese steak is plopped onto my plate. "Try my butternut squash ravioli," Schroeder beams, emerging from the kitchen with four plates of pasta balanced on her forearms. So we do – taking a deep inwards breath before slicing our forks into the balsamic-dripping pasta layers, revealing a beautifully golden squash puree.
Media folk and magazine writers, free-lance journalists and a concert guru, together playing one giant American/Italian family for the day. I found myself reminiscent of the four months I spent studying in Florence, Italy. I lived with Rita, a widowed Italian woman who didn't speak a lick of English, who praised Barack Obama before I'd ever heard of him, and who made a pesto lasagna that literally dissolved on my tongue.
With university, the only hours I spent with Rita were across the kitchen table from her at dinnertime. Eight o'clock, every evening. I'd burst into the kitchen, rain-soaked jeans and muddy sneakers, and she'd set a bowl of steaming pumpkin risotto in front of me, swirling green-shaded olive oil in its center. She'd always say I could stand to eat a little more, filling up my bowl with seconds, sometimes thirds. Basta! (I'm full, stop!) became my most utilized Italian phrase.
Mama Mia has never been a critically acclaimed restaurant in Portland, though as I saw today – and as Lisa sees nearly every day – people more than enjoy the food. Yet, she explains, commentators complain that it's American/Italian, not authentic.
A smirk slides across Lisa's face, because she of all people knows that meatballs and cheese steaks are entirely American.
"Italian/American food is not appreciated – but this is good food." Her voice rises, her arms doing the talking. "People come in and say, 'Now this is Italian food,' and it isn't. But if this is the best Italian food for them…who cares?"
More than the origin of the dish, what matters with Italian (or Italian-influenced food, that is) is the love. And Lisa – like Rita, when she would wink at me from in the kitchen, ladling tortellini into a simple white bowl – is stuffed with it.