PORTLAND PLATED
The Italian Job
Give your pumpkin pie a makeover.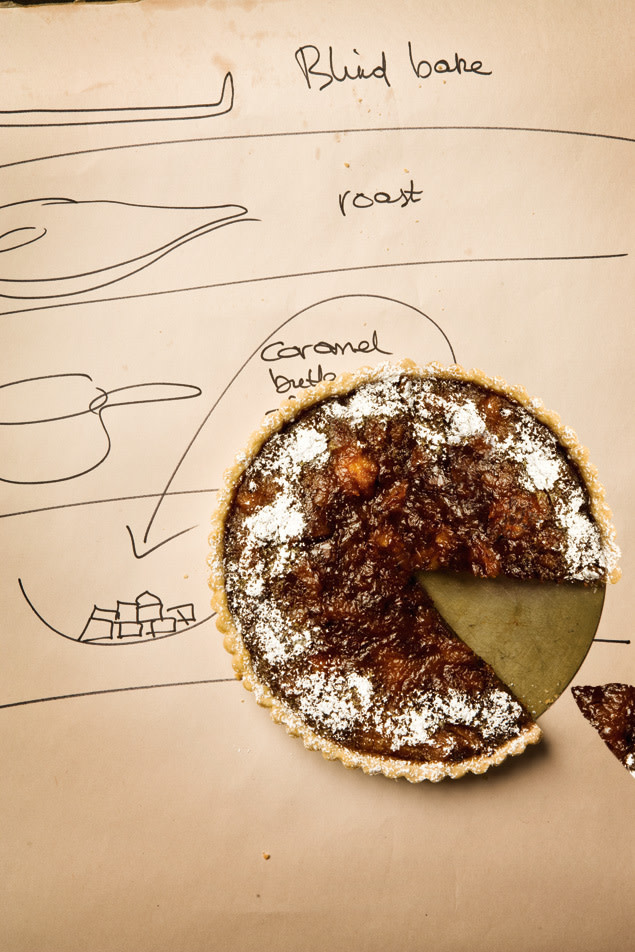 MOST OF US RELISH our Thanksgiving Day dinner rituals—the recipe for turkey dressing, the ever-present side of jellied cranberries, the various pies. So, too, does master chef Robert Reynolds, whose moment of fulfillment arrives after the main course, when he serves the pumpkin pie and his guests ask, "What is this?"
Come holiday season, Reynolds eschews the traditional pumpkin custard pie your grandmother might have served in favor of a decadent Italian version—a tart laden with whole pieces of roast pumpkin and chunks of chocolate surrounded by swirls of caramel and spiked with rum. Reynolds's typical answer to his puzzled guests? "Taste it."
Reynolds opened the renowned Le Trou restaurant in San Francisco in the 1980s and has spent the past three years teaching everyone from culinary novices to Portland's most accomplished food connoisseurs at his Chefs Studio. He admits that he's rarely had much luck reinventing holiday menus—people are simply unwilling to part with their traditions. But this pumpkin pie has proven to be an exception to the rule. "It's festive, it's distinctive, and it's memorable," he says. Luckily, it's also forgiving to prepare.
Reynolds learned the recipe from a former student, who discovered it in an Italian cookbook. "One day she handed me this phenomenon … this pie," he recounts in reverent tones. "Since the first time I had it, I've dreamt about it each time pumpkin season returns."
While the recipe is mercifully minimal on technique, Reynolds insists on using fresh pumpkins rather than canned filling (you can also substitute squash). Part of the pie's appeal, after all, comes from the coarse texture of the roasted pumpkin blending with the unevenly dispersed morsels of chocolate (smaller pieces melt into the mixture, while larger ones remain intact). Roasting fresh pumpkin brings out all of its sugars for greater sweetness. Chocolate and caramel add depth of flavor and a rich hue. A final shot of rum ties it all together.
Although Reynolds nods to tradition by topping his pie with whipped cream, there is a more Italian option—a dollop of mascarpone. That, he says, smiling, "wouldn't offend it."