ferran
El Bulli to Close
The World's Best Restaurant to close for two years in 2011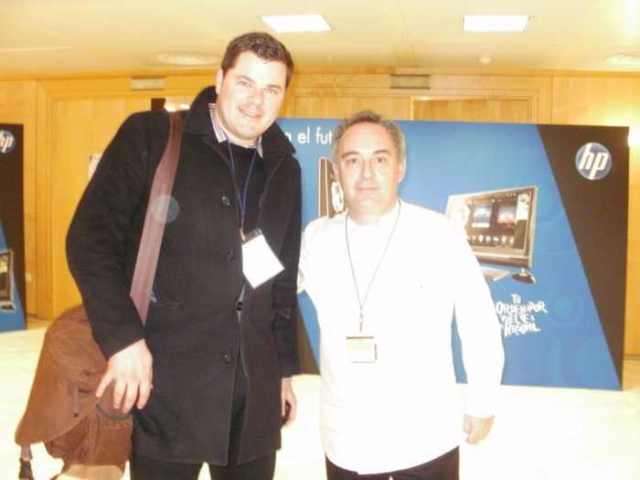 Today I woke up in Madrid, Spain and went about my normal routine. I say normal because, as most of my friends are sick of hearing, I used to live here during 2005 and 2006. While most of our friends were trading up, we traded in the equity of a 1926 bungalow in North Portland to realize our dream of living in Spain, and that's why, four years later, the bar man remembered my name this morning when ordered my usual cafe con leche with olive-oil soaked toast at a Ducado smoke-filled bar on the Plaza De Tirso De Molina. It was like I never left.
I'm here for Madrid Fusion, a chef congress that showcases modern cooking, or La Cocina Nueva, as they call it here in Spain. Today alone, I spotted Jeffrey Steingarten, Ruth Reichl, Juan Mari Arzak, and many famous chefs from gastronomical hot spots Tokyo, Copenhagen, London, Barcelona, and the Basque Country—which incidentally has more Michelin stars by far per capita than any place on Earth.
The highlight today was an annual presentation by Ferran Adria of El Bulli, which is almost resoundingly considered the world's best and most innovative restaurant according to gastronomes. Ferran took the stage just before lunch and wowed everyone with his CSI-style video presentation of El Bulli's 2009 dishes.
But the biggest surprise of the day came later in the afternoon, when Adria announced El Bulli will close for two years starting in 2011. Adria says he needs a break. I've never been to El Bulli. Few have. The restaurant reportedly receives 2 million annual applications for 8,000 seats during its six-month season. People come from all over the world just to dine at the restaurant near Barcelona. And for those who don't make the cut: They'll have to wait even longer.
One more thing: I lied. The actual biggest highlight of the day was meeting Mr. Adria in the media suite.