Food News
Lunchin' Large
Big-Ass Sandwiches cures lunchtime blues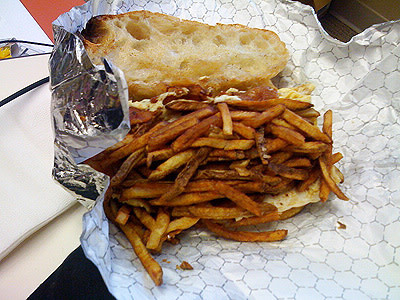 I have it on good authority that the world is going to end in 2012. This came straight from the mumbling, Harvey Pekar-lookalike who sits in the back of the No. 14 bus, and thus far his data has proven to be at least as reliable as Wikipedia or Fox News. Since we're all headed for the happy hunting grounds anyway, I can wholeheartedly recommend lunch at Big-Ass Sandwiches.
Under the proprietorship of Brian and Lisa Wood, this never-say-diet food cart at the corner of SW Third and Ash has been grilling up belt-loosening sandwiches since just before Christmas. Today I punished a Big-Ass Breakfast Sandwich (pictured), which sports a scrambled-egg foundation, covered with bacon (or sausage), and buried under a pig-pile of French fries. Somehow the soft and chewy ciabatta roll is able to swallow up this mess, though the consumer is more than welcome to shovel down a few handfuls of fries in conventional fashion before closing the sandwich, taking a beatific bite, and happily hastening their own demise. It's an efficient little monster that ruthlessly combines side dish and entree on a dough pillow of fresh-baked bread.
Co-owner Lisa Wood tells me that this week BAS is proud to feature the Cort & Fatboy Special, a beef brisket slathered in homemade BBQ sauce and crushed beneath layers of bacon, coleslaw, and fries. Word around the carts is that this leviathan lunch special may soon spawn its own religion. And with Armageddon on the horizon, a little religion couldn't hurt.
UPDATE: The actual title of this week's special is "The Cort & Fatboy Happy Fun Time BBQ Southern Meat Surprise." Thanks David Walker!