Random Notes
Short Subjects
Barbecue, beer, and $5 well spent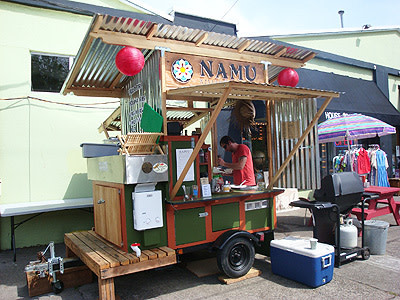 ITEM Sunday morning found me staggering down Southeast Hawthorne in search of a Hangover Helper breakfast, but the waiting lists were sapping my will to live. As luck would have it, I was soon ordering several tons of meat at a brand-new Korean Barbecue cart called Namu, situated at SE Hawthorne and 33rd, right in front of House Vintage. Owned and operated by a friendly Hawaiian headbanger named Gary Evans, along with his friend Clint Colbert, Namu only has a few entrees but they're all worthy and my hangover was soon smothered in healing barbecue sauce. The pulled pork sandwich ($5) is a huge, drippy mess of tender Sweet Briar Farms pork served with cabbage and a breathtaking homemade honey horseradish on a toasted bun. It's a sweet and smoky sensation, as good as any I've had in the area. The toothsome and tangy Korean beef ribs ($7) are marinated in ginger, green onions, garlic, brown sugar, and soy sauce, and come with a scoop of rice and peanut sauce. Do not overlook the kim chee, cucumber salad, and sesame spinach that garnish this massive meal. The greens are deftly prepared and really pack a peppery bite. And for my non-animal-eating readers, you can get all of these lovely shrubs in a $4 rice bowl spiked with peanut sauce. The cart has only been in operation for a few weeks, but it's a wonderful and welcome change of pace from the taco wagon brigade. Namu is open daily from 11-7 and orders can be phoned in at 503-828-4260. Tell 'em the Bar Pilot sent ya!
UPDATE Stopped by Namu last night for the veggie bowl. It's a spicy, satisfying safari of flavors. And proprietor Gary Evans wanted the world to know that the cunningly crafted Namu cart was built with the invaluable assistance of Alpine Design.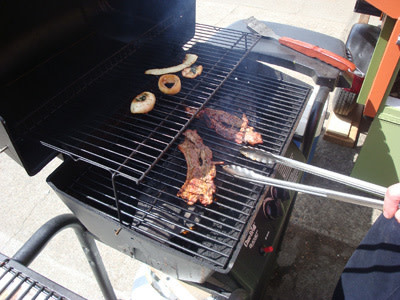 ITEM Congratulations, it's a beer! Apex, a new beer bar that I first mentioned here is now open for business and awaiting discriminating swill seekers of all shapes and sizes. Located at 1216 Southeast Division Street, it's another former industrial space with garage doors that roll up when the weather cooperates. More importantly, they've currently got 30 taps running (owner Jesse McCann is shooting for 50) mostly in the $3.75-$4 range, though some of the hard-to-find Belgian varieties teeter toward the $9 mark. Still feeling the pinch? Not to worry, they also have Hamms for the financially embarrassed.
ITEM Be sure and tune in for the latest installment of Happy Hour of the Week (coming soon), as intern Joseph Manuel spends all of the money he had saved to pay back his student loans at retro video game parlor Ground Kontrol. On the last Wednesday of each month you can play all the Street Fighter II, Galaga, NBA Jam, and Frogger you want for a dinky $5 cover. Constant button-pushing can build up a powerful thirst, so take advantage of $2 Pabst tall boys.