Carbo Loading
What's For Lunch?
Another Big-Ass Sandwich!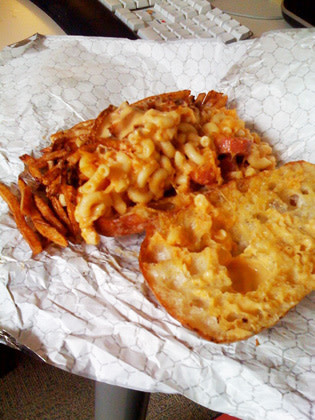 As I carefully unwrapped my prize, several co-workers gathered around to gawk at the grand unveiling. Once the foil was removed, a moment of stunned silence ensued.
"It looks like my entire childhood stuffed into one sandwich," said web designer Garrett Milojevich.
"How so?" I asked.
"We were very poor," he answered.
I swear on a stack of take-out menus that I am NOT pimping for Brian and Lisa Wood, the diabolical masterminds behind Big-Ass Sandwiches. I don't owe them money, and they did not save my life back in 'Nam. But come on! How can I realistically keep a sandwich like this under my hat? The Big-Ass monstrosity of the week, the Funemployment Radio Special ($6), comes loaded with a couple scoops of macaroni and cheese, sliced hot dogs, house-made Béchamel cheese sauce, an alarming pile of french fries, and a few squirts of Secret Aardvark Hot Sauce impossibly folded into their signature grilled ciabatta roll.
And I'm not the only blogger with the hots for BAS. As I was perusing today's menu, I ran into Aaron Duran, who has a bitchin' pop culture website called Geek in the City, a spot where you can read the latest scuttlebutt about crap-tastic movies, sci-fi TV, and other topics that you're ashamed to admit that you care about in a big way. Aaron was just polishing off the Funemployment Radio Special and recommended I do likewise. He dared me! What was I going to do? He draws a lot of water in this town!
Lest you think that Big-Ass Sandwiches is merely about sending me to an early grave, let it be known that Brian and Lisa Wood have also organized a monthly benefit day called Third Wednesday PDX in which they donate 100 percent of their profit and tips to a local charity, with a different beneficiary each month. Thus far they've raised several hundred dollars each for Mercy Corps, Basic Rights Oregon, and p:ear. For their April 21 event, they've recruited fellow cart merchants at Yarp, The Big Egg, Give Pizza a Chance, and Whiffies to join their effort. And that should make for a hefty donation to this month's recipient, The Pixie Project, a local animal rescue organization. So go ahead and stuff your face. Do it for all the kitties and puppies.
Epilogue: There were individual moments from the Funemployment Radio Special that were among the finest tastes I've ever masticated. The mingling of hot sauce, cheese, fries, and hot dog, practically made my eyes roll back in my head. Yes, I'm well aware that this sandwich is bad for me. I'm not a complete moron—I'm more of a work in progress. But if Big-Ass Sandwiches is wrong, I don't want to be right.