Bunk Bar
Bunk Bar Construction Underway
Restaurant and bar project by cool kid trifecta Nick Wood, Matt Brown, and Tommy Habetz will open this summer. Neighborhood takes shape.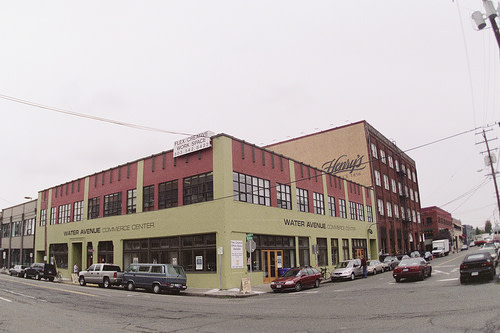 It has been nearly six months since the project was first reported, but permits have been filed and Bunk Bar is officially under construction as of this week, says Jonathan Malsin of Beam Development, whom I ran into on Friday.
The night time outpost for Portland's favorite sandwich shop is slated to open by mid-summer. In restaurant build-out time, I'm going to put my money on an August or September opening. One learns after several years of restaurant reporting that projects never open on time. Either way, Bunk's entry into the Central Eastside Industrial District is a milestone for a neighborhood that has been trying to find an identity for years. An industrial sanctuary, the Central Eastside has more recently become a magnet for creative services firms looking for office space. Portland is a city comprised of many small firms, and Beam is one of the city's only large developers that understands this and builds accordingly. And while the rest of the office leasing market has essentially been in the toilet since late 2008, the Central Eastside (along with Old Town) continues to blossom.
So what's this have to do with food?
Once only home to establishments like the Produce Row Cafe and Le Bistro Montage, both magnets for late-night denizens, the neighborhood has more recently attracted more sophisticated businesses like the charcutuerie restaurant Olympic Provisions, the forthcoming Water Avenue Coffee Roasters, and Red Slate Wine. Meanwhile, the decision to bring back lunch to Clarklewis has been well received, and late night hangouts on the fringes of the neighborhood including Slow Bar, Beaker and Flask, and Ron Toms have become some of the most popular watering holes in town. The city has done its part by adding the Eastside loop of the Portland Streetcar and the Burnside Couplet, as local developers are beginning to take the neighborhood very seriously. Bunk Bar crowns neighborhood with another late night destination for food. Bunk is by far the most popular sandwich shop in Portland. Next door, Water Avenue Coffee will debut it's gorgeous new digs by the end of next month. What's more, the previously mentioned Produce Row Cafe is also undergoing major renovations and will reopen this summer.