Karen Brooks
Karen Brooks Named Portland Monthly Food Editor
For more than 30 years, Brooks has been Portland's defining voice of dining.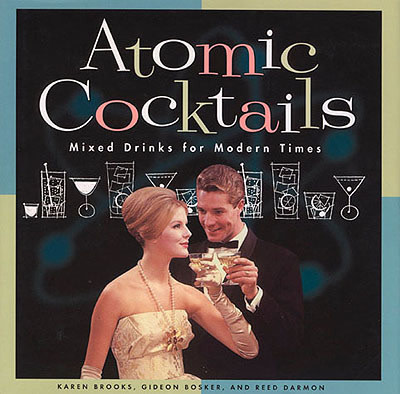 Here's the good news alluded to last week. Speaking for myself, I could not be more excited to work with Karen, who is a mentor and a good friend.
Portland Monthly is pleased to announce that the accomplished food and popular culture writer, Karen Brooks, will be the magazine's new restaurant critic and food editor.
For more than 30 years, Brooks has been Portland's defining voice of dining. She wrote and shaped the restaurant coverage for the Willamette Week and the Oregonian. She is the author of eight books on food and pop culture, among them the cult classics Patio Daddy-O and Atomic Cocktails (pictured), as well as the 1993 tome, Oregon's Cuisine of the Rain, a defining early overview of the Northwest Cuisine movement.
"Over the last decade, Portland has become one the most important food cities in the country, and Karen Brooks has been there reporting, supporting, and cajoling the scene every step of the way," says Portland Monthly's editor in chief, Randy Gragg.
The magazine's current food columnist and blogger, Mike Thelin, will shift to writing "Savor," the magazine's monthly cooking column. Brooks and Thelin will collaborate on the magazine's Best Restaurants issue in November, according to Gragg.
"Mike is a walking, talking, cooking encyclopedia of techniques and recipes gleaned from chefs and foodies across the globe," says Gragg. "With Karen Brooks and Mike Thelin writing in tandem, Portland Monthly is poised to deliver the most exciting and insightful food coverage in the region."
Karen Brooks bio: With only a dime in her pocket but plenty of curl in her hair, Karen Brooks followed the Oregon Trail from Chicago to Portland in 1979. Soon after, she joined Willamette Week to become one of the city's first food critics and launch Portland's first critically driven restaurant guide. She moved the Oregonian in 1988 for act two, serving as arts editor and restaurant critic and developing the daily's first annual restaurant guide. Throughout her career, Karen has written a range of books on food and pop culture that, together, have sold 700,000 copies and counting: Dressed to Grill: Savvy Recipes for Girls Who Play With Fire; High Balls, High Heels: A Girl's Guide to the Cocktail Arts; Dude Food: Recipes for the Modern Guy (all by Chronicle Books); "Oregon's Cuisine of the Rain" (Addison Wesley); The Complete Vegetarian Cookbook (Rodale Press, hard back and quality paperback/Pocket Books, mass paperback); and The Global Kitchen. Brooks has also been a guest on the Today Show and NPR's Splendid Table.
Mike Thelin bio: Born into a multicultural family in Columbia County with relatives from Mexico, Vietnam, Scandinavia, and Japan (plus an excellent cook next door from South Korea), Mike gained an early appreciation for the wonders of kimchi, pickled herring, and spit-roasted goat. A former restaurant critic and columnist at Willamette Week, Mike spent 15 months wandering France, Spain and Portugal in search of the perfect meal. He has lived and worked Washington, D.C., New York, Ireland, and Spain. Since 2009, he has been a food columnist and blogger for Portland Monthly. Most recently, he oversaw the 2010 annual conference of the International Association of Culinary Professionals, the largest gathering of international chefs, food writers, and other cuisine aficionados in Portland history.