Happy Hour
Happy Hour: Accanto
Civilized eats and atmosphere at Accanto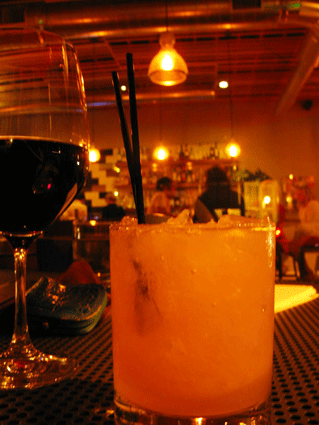 Accanto is the little-sister cafe adjacent to decadent Italian eatery Genoa on SE Belmont. It's in my neighborhood, and I walk by its large, scenic windows all the time, staring in at the tall, mirrored wall of liquors behind the stark wooden bar. I've even eaten there once—brunch, at the boyfriend's behest. The atmosphere is convivial—quiet, low-lit, stylishly bistro-esque—and the food is decent: delicate, reserved, well made with fresh ingredients. So why can't I bring myself to truly like you, Accanto?
Happy hour is daily from 3-6, weekdays from 9-10, and weekends from 10-midnight. Not bad. The nighttime stretch gives us working stiffs a decent window, which is great because honestly, if I have to rush to choke down a drink by 6, I'm not going to bother. Unfortunately, the menu isn't particularly bountiful, with seven very civilized bites (i.e., small and painstakingly plated) ranging from $1.50 to $6; craft pints on draft (Everybody's, Walking Man, Hopworks) for $3.50; "happy wine" (red or white) for $5; and a house-infused cocktail for $5. Last night the special happened to be gooseberry infused bourbon mixed with apricot puree and lemon juice, garnished with lime. Cue "danger" music.
Frankly, I'm not a whiskey gal. But by that time I had already decided that I wanted a cocktail, dagnabbit, so despite my belly's brown-liquor dread, I ordered the daunting concoction. And guess what? I liked it. A delicious intro-to-bourbon drink, I decided. If you've had the Bye and Bye at the Bye and Bye, it tastes quite a bit like that—though less gut-wrenching and drunk-making, given the fact that it's got only one spirit instead of two (and isn't served in a jar the size of my head).
The boyfriend opted for the red, a light and refreshing Sangiovese that we both liked. Not being particularly drawn to any of the food items, like the marinated olives ($2) or the tomato, mozzarella, and rapini panini ($5), I ordered the "happy" soup of the day: a summery vegetable number, warm and broth-y with squash, kale, and zucchini, garnished with, to my best estimate, toasted baguette slices and shredded Parmesan cheese ($5). I wasn't thrilled, but I also wasn't disappointed.
Although it was only about an hour before close when we arrived (just in time for happy hour, naturally), and there was no exterior lighting, the server, rather hesitantly, let us sit outside. In retrospect, I think she made the right choice, because the boyfriend and I ended up getting into a heated philosophical debate about geometry, which probably would have disturbed the pristine nature of the indoors.
Not only did the server's sound judgment win her points, but she was also very attentive at our table, and at the nearby table populated with Baby Boomers. And she was cute. I like places with an attractive wait staff—what can I say; I've got a well-developed aesthetic. Plus, her cute, trendy appearance was a great match to the cute, trendy décor.
Accanto's not a bad place; it's fine. I should like it and it's not that I don't. I think it's the middle class, middle-aged bistro patron that fails to titillate me. God knows why (cue sarcasm). Accanto, I'm sorry—It's not you, or your thoroughly modern fare, it's me. If you want me back, you can find me down the street at the Vern, where I can yell about mathematics to my heart's content.