Food Cart
Overlook's New Thai Food Cart
Pbong's Bowl dishes up home-style Thai street food from a driveway on North Killingsworth Street.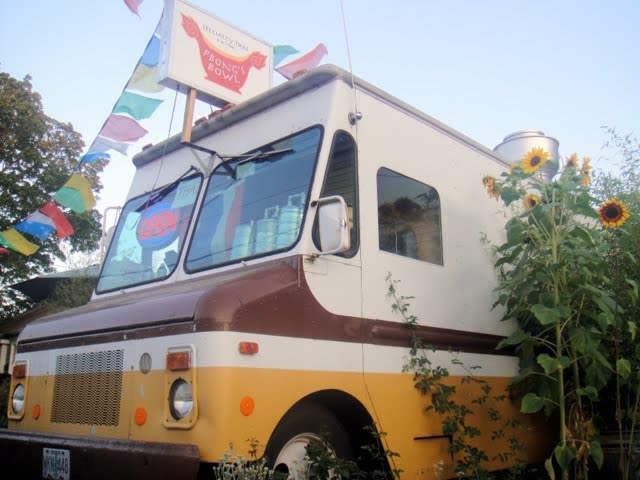 Last night I saw the future: Pbong's Bowl. Call it Food Carts: The Next Generation. Instead of joining one of P-Town's many beloved "pods," Supajanut Brunjongaksorn a.k.a. Pbong, serves hefty portions of authentic Thai street-food out of a renovated vintage Chevy Frito Lay delivery van parked in the driveway of her own home, located at 2034 North Killingsworth Avenue.
The 36-year-old self-taught chef opened the cart at her neighbors' behest after months of inviting them over for Thursday night mango curry chicken or Khao Soi, although her family used to run a similar business in front of their home in downtown Bangkok.
Yesterday, the steady stream of apparent regulars lining up at the window all ordered the special — steaming bowls of Tom Yum Noodle — before settling down on at the 20-foot long communal table in the front yard. But since my husband and I were first-timers, we opted to try the only two entrées on the official menu: Kao Mok Gai, a fragrant dish of curried yellow rice served with succulent hunks of chicken thigh, salty/sweet fried shallots, and cucumbers; and "Pad Portland," a Pad Thai topped with strips of fried tofu, freshly grated carrots, broccoli, and a spicy peanut sauce sweetened with organic molasses. A delicate mango, avocado, and coconut milk smoothie came in really handy after we got a little over-zealous with the house chili oil.
I have a feeling all the lovely CSA cabbage and squash in my fridge is going to die a slow death because I am definitely headed back to Pbong's to try the specials — like Pak Pao, a stir fry made with meat, chili, and hot basil, a rarity in the U.S., and traditionally topped with a fried egg. Maybe tonight, when 3 Leg Torso plays a free show from "the main stage" i.e. the front porch.
Hours: 11:30 a.m. to 2 p.m., and 5 p.m. to 8:30 p.m., Monday through Saturday.