Cheap Eats
Fantastic Pho on NE Killingsworth
Get your pho fix for $5 at 33 Ave Pho.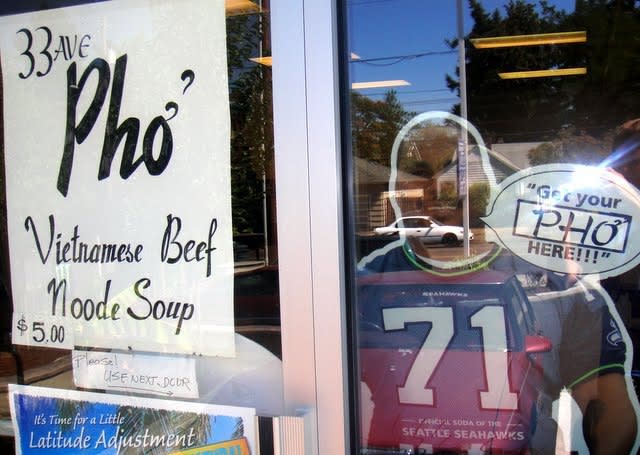 33 Ave Pho is the kind of hole-in-the-wall find that you're not sure you should tell your friends about because they might tell their friends and then the place will get overrun and never be the same quirky, quiet, delicious, ridiculously cheap place it was when you first found it. And, chances are, they won't find it on their own.
Located in the back of the recently expanded mini-mart connected to the 76 gas station on the northeast corner of 33rd and Killingsworth (3323 Northeast Killingsworth Street), 33 Ave Pho offers a simple menu of Vietnamese teriyaki (beef, pork, chicken, shrimp, or tofu), salad rolls, spring rolls, shrimp wonton soup, and pho — an infatuation-inspiring beef or chicken noodle soup which, at $5, is the most expensive dish they serve.
I went there for lunch yesterday thinking I wasn't very hungry, and ended up wolfing down a gigantic plate of the tofu teriyaki — a mountain of perfectly-cooked rice, steamed vegetables, and chunks of chewy-on-the-outside-soft-on-the-inside fried tofu coated in a salty, sweet sauce with lots of cracked pepper and shallots. It was straight-forward and not exactly pretty, but also the tastiest, most satisfying vegetarian dish I've had in months.
That aside, most folks were there for the pho — huge bowls of rice noodles, paper-thin strips of round steak, and tender meatballs in a clean, bright broth made from oxtail, knucklebones, onions, ginger, and spices like cinnamon, cardamom, and star anise, which simmers for hours before it's served. You get to add your own mung beans (bean sprouts), basil, and wedges of lime, as well as Sriricha and/or Saambal for heat, soy sauce for salt, and Hoisin for sweetness.
Yesterday, surrounded by shelves filled with cat food and charcoal, everyone was slurping the soup, including a burly construction worker, an uber-fit postal worker, a Japanese teen wearing skinny jeans and headphones, and my meat-eating husband, who once informed me that pho was the one food he'd want if he was ever stranded on a desert island. The husband's opinion of 33 Ave Pho: "What makes it so good is its simplicity. The broth is clean, bright, and authentic — not the gamey-tasting sweet-and-sour soup that some places substitute for the real thing."
There are two ways to order: sit at one of the three tables in the brightly-lit "dining area" and wait until one of the incredibly friendly Vietnamese women working the gas station register can come over and help you, or wait at the counter that contains nothing more than a rice cooker and pictures of the menu items so that you can point if your waitress doesn't understand you.
Getting your food won't take long at all — and at least you can shop for gum and lottery tickets while you wait.