Cart Attack
What's For Lunch?
The Bar Pilot Patty Melt!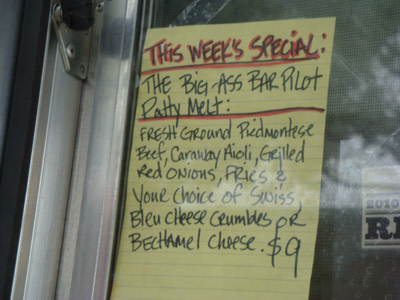 I feel like I just ate a park bench. This will be my last lunch report from Big-Ass Sandwiches for a while, I promise. But since they did me the honor of naming this week's special after me, I feel I should acknowledge the effort—especially since it's friggin' awesome.
The Bar Pilot Patty Melt is a leviathan of fresh ground Piedmontese beef (tender, juicy, lean) and grilled onions, splashed with caraway aioli, and loaded with a layer of french fries. You have three cheese choices; bleu cheese crumbles, Swiss, and the bechamel sauce. I recommend the latter, because it introduces a slightly smoky element into this highly munchable mess. The caraway aioli replicates the taste of rye bread, a traditional component of the patty melt, and the bechamel, onions, and fries become fused into a glorious, savory sidewalk of starch. I also recommend a change of clothes: the juice from the beef soaks the bread and the normally sturdy Fleur de Lis-baked bun turns into a spongy tortilla resulting in more falling debris than the Hindenburg. I'm ashamed to admit I couldn't quite finish—don't you judge me!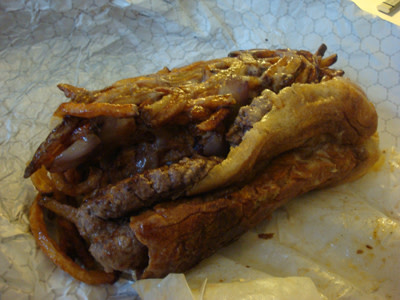 Having a sandwich named after me is one of the coolest things that's ever happened. How pathetic am I? "That sandwich is you," said one of my office mates. "Beefy, wry (rye), and really cheesy." If I'd actually consumed the whole sandwich in one sitting it would have been my epitaph.
Speaking of monster sandwiches, I ate at the Sonic Drive-in in Wilsonville the other day. Glory be! It's a sinful shrine dedicated to calories, carbohydrates, and carhops, a totally Old School operation like A&W used to be. You order from your car and a waitress on roller skates wheels out a tray loaded with heart-stopping comestibles—a partial menu is shown below. The dreaded tofu wouldn't dare show its pale face around these parts. I guess what I'm trying to say is, temptation is everywhere. Enjoy your life and I'll see you in hell.