Good Eats
Big (Ass) Wednesday!
All I need is … this sandwich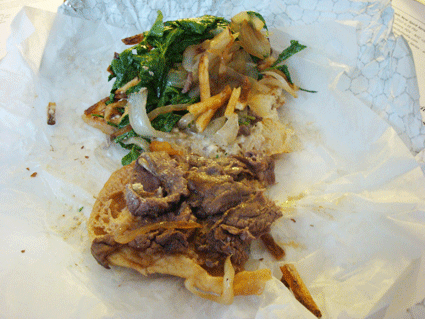 This just in: After consulting with a team of physicians and cardiologists, it has been determined that I can safely eat one Big Ass Sandwich per month without appreciably shortening my lifespan. Or as one of the esteemed sawbones told me, "At this point, what difference does it make? Yeah, sure, eat up. Whatever."
Business has been brisk at Brian and Lisa Wood's supreme sandwich cart as of late. Big Ass Sandwiches was voted "Portland's Best Food Cart" by the readers of Willamette Week, and it will be featured on a new Cooking Network show called Food Truck Revolution on August 22 and 29 (check local listings and then scream like a banshee at your cable provider).
My arrival today coincided with that of a well-dressed gentleman who performed a Tom Jones medley (with choreography!) in the hopes of winning a free sandwich from proprietess Lisa Wood. This guy was pretty damn good, so I would advise any potential sand-handler to work on their moves. Wood also informed me that anyone loyal (or foolhardy) enough to get a Big Ass Sandwich tattoo, that it's worth $1 off any future sandwich purchase—for life! Or at least the life of the tattoo. But wait! Not so fast. The tattoo should include the official BAS logo as seen here.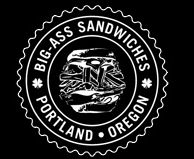 This week's special is named after a scene in the Steve Martin film The Jerk, in which Steve wanders dejectedly away from his mansion and wealthy former life saying, "All I need is … this chair." The All I Need is This Sandwich features locally sourced roast beef (there's also a turkey option), grilled onions, arugula, bleu cheese sauce, french fries, and an industrial strength horseradish that will incinerate every nose hair on your person. Once again, the true genius of this sandwich lies in the jazz-like interplay of the ingredients: the tangy bleu cheese, the spicy arugula, and the brawny grilled onions wreak havoc over the resilient french fries and tender roast beef—until running headlong into a conquering wave of horseradish warriors that will have you crying like you just sat through the last scene of Old Yeller.
And finally, once the battle has ceased raging, you're left alone with the broken remnants strewn across the foil wrapper like Longstreet's infantry at Gettysburg. Oh, and don't forget to wash it down with one of BAS's artisan soda pops from around the country, such as the High Mountain Huckleberry from Jackson Hole Soda Co, which provided some sweet relief after that merciless horseradish devastation.
And that, my friends, is how we do lunch … downtown. One more thing, drinking buddies. One day I would like to be honored at BAS with a Bar Pilot Special. Tell me, what ingredients would a sandwich named for yours truly have on it?