Food Cart City
The Pioneer
North Station: N Greeley Ave & Killingsworth St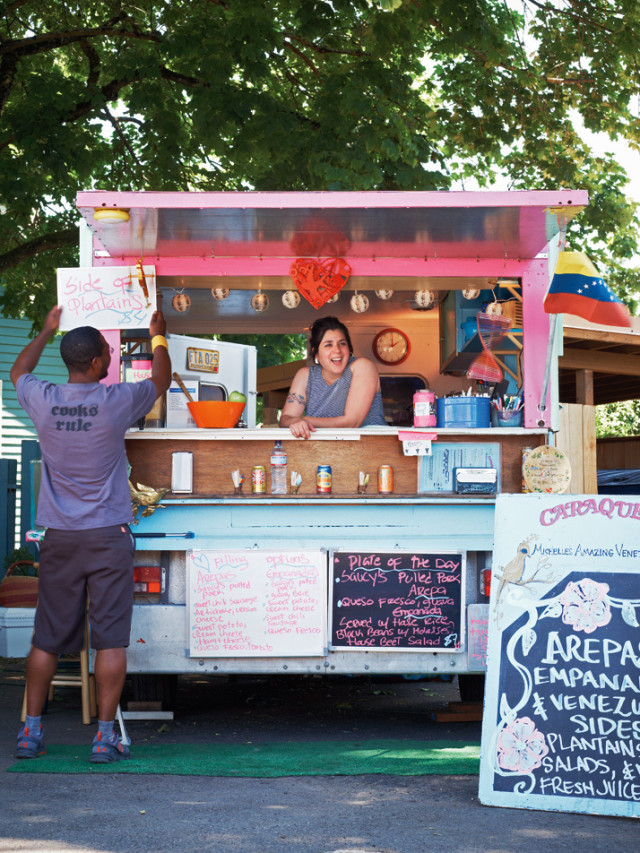 THIS PRECOCIOUS POD emerged in September 2009, when Madrona Hill Development set about transforming an old service station at the corner of N Greeley Avenue and Killingsworth Street into a wood-fired pizza restaurant (Pizza Depokos) and filling its parking lot with an eclectic mix of food carts. Since then, North Station has quickly grown into a family-friendly destination with a distinctly global collection of cuisine. Whether you're hankering for burgers, barbecue, mac and cheese, Venezuelan, Korean, Mexican, Thai, or even Guamanian food, you'll find it here. Just don't be surprised if the wealth of choices leaves you wandering from cart to cart, tripping over freewheeling toddlers as you go.
Brown Chicken Brown Cow

PDX

: Steamed Cheeseburger ($6)
That's right, in the true Connecticut tradition, this cheeseburger is steamed. Such a preparation may induce skepticism, but 10 minutes in the stainless steel oven endows this patty with a level of melt-in-your-mouth tenderness that'll turn you into a steamer believer. Served on a sturdy bun and dressed with melted cheddar, red onion, lettuce, and tomato, this burger is as old-school and all-American as it gets.


Caraqueña: Michelle's Plate ($7)
Boldly subtitled "Michelle's Amazing Venezuelan Kitchen," Caraqueña blends the chef's family traditions and verve with Northwest ingredients. Flaky empanadas and buttery arepas (cornmeal cakes) filled with well-seasoned meats are the cornerstone, but side dishes linger even longer on the palate: subtly sweet black beans and rice, luscious fried plantains with a horseradish aioli dipping sauce, and the beet salad—a refreshing, slaw-like tangle of pickled beets, carrots, and cabbage with a mustard-papaya vinaigrette. Order Michelle's Plate to sample it all.


Saucy's: Rib Plate ($9)
With its heaping pile of three pork ribs, smoked "slow and low" to the peak of tenderness, and smothered in a sweet, smoky barbecue sauce that took the proprietor 10 years to perfect, the rib plate at Saucy's is sure to steal the heart of any discerning, rib-eating veteran. You'll need just two things to enjoy this meal to the fullest: a hefty appetite and an even heftier pile of napkins.


Scoop Organic Ice Cream: Assorted scoops ($2.50)
Rounding out North Station's backyard-barbecue vibe is Scoop, where proprietor Amanda Rhoads churns out small batches of organic ice cream. Old standbys like chocolate and strawberry are delightfully rich and creamy, but don't miss the more experimental scoops like Madagascar vanilla, avocado, ginger, and oatmeal and brown sugar.